Scenic USA - Utah
Scenic USA offers a collection of select photographs from a wide variety of attractions, points of interest, historic sites, state and
national parks found throughout the United States. Each photo feature is coupled with a brief explanation.
For further detailed information, links to other related sites are provided.
San Juan River Goosenecks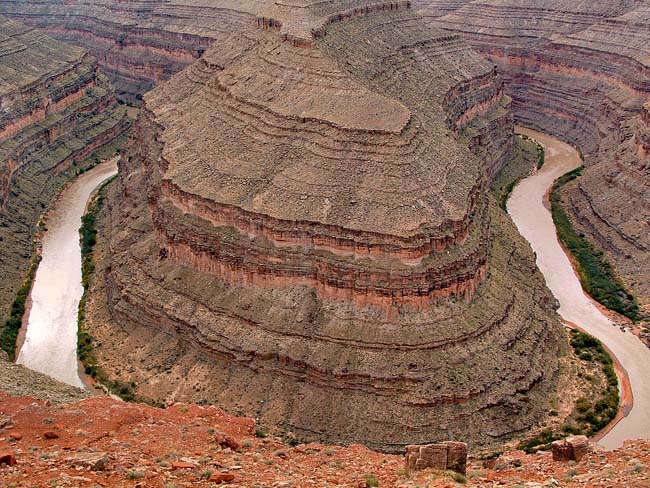 The Goosenecks State Park, located in southeastern Utah, rests upon a high desert mesa, overlooking the San Juan River. Here, lying below your feet at a jaw-dropping 1000 feet, the river meanders for five miles, progressing only one linear mile as it steadily flows to join the Colorado River. These immense goosenecks are what inspired the park's name.
Long before rafting and river-running were commonplace terms in America, Norman Nevills of Mexican Hat was leading expeditions down the Green, Colorado and Idaho rivers. These trips were quite expensive, with some costing as much as 1500 dollars, a tidy sum during the Depression Era. What is largely forgotten were Nevills' river excursions down the San Juan River from Mexican Hat to Lees Ferry. This excursion over the San Juan and Colorado rivers totaled 191 miles and took seven days to complete. His Canyon Wonderlands excurisons here on the San Juan were much more affordable, and when Nevills died in 1949, the cost was only 200 dollars. Nevills was the first to offer San Juan River excursions on a regular basis and personally guided over 600 people down the San Juan.
This spectacular scenery at Goosenecks State Park is reminiscent of what Norman Nevills loved so much about this area. The entire southeastern desert is filled with scenic landscapes and historic landmarks. A climb up Moki Dugway, just to the north, provides another breathtaking viewpoint at Mulley Point. And getting up to Mulley Point is more than half the fun! From this elevated perch, sightseers overlook the Valley of the Gods, Mexican Hat and one of Arizona's famous attractions, Monument Valley. For an older sampling of history, visit Edge of the Cedars Pueblo, a village inhabited by the Ancestral Puebloans from AD 825 to 1125. Here you may climb down a ladder to explore a 1000 year old kiva. This area is truly a remarkable corner of the state.
Copyright ©2006 Benjamin Prepelka
All Rights Reserved