Scenic USA - Wisconsin
Scenic USA offers a collection of select photographs from a wide variety of attractions, points of interest, historic sites, state and
national parks found throughout the United States. Each photo feature is coupled with a brief explanation.
For further detailed information, links to other related sites are provided.
Natural Bridge State Park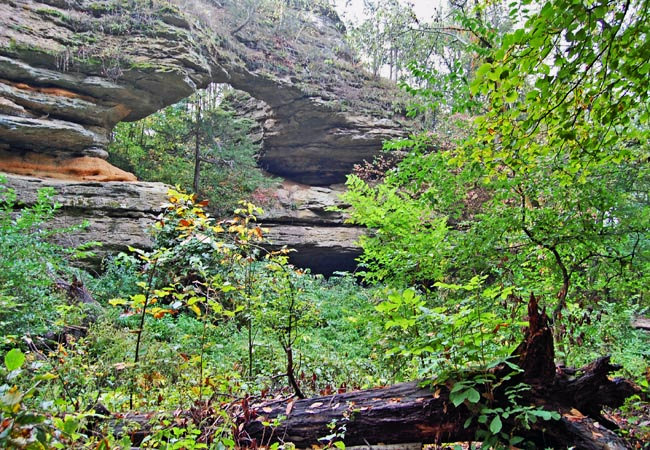 A large section of southwestern Wisconsin, known as the Driftless Area, was untouched by the last ice-age, and was neversmoothed by massive ice sheets. This rugged territory remains thoroughly cut by countless tributaries of the Mississippi River. Natural Bridge State Park lies in the Driftless area, about 25 miles from the capital of Madison and I-39. Here, roads seems to run on a grid, and there is no straight line to the park. If you're headed to the park you may hear from the backseat, are we almost there, several times.
One of six Natural Bridge State Parks in America, this Wisconsin park borders on the Baraboo Mountain Range. Established in 1973, Natural Bridge is a day use park and features several hiking trails. Park acreage totals 530 acres and includes a 60-acre state natural area that is is open for hunting during the fall.
The most popular family hike, Indian Moccasin Nature Trail, leads to the park's features, a rock shelter and natural arch. The park trail leads through abundant oaks and other hardwoods. Small open patches of prairie are covered in grasses and cactus. The cool forest floor is bordered with walking fern, slender lip fern and a rare purple cliffbrake. Leland Natural Bridge, pictured here, has an opening 25 feet high by 35 feet wide. This weathered formation lies nearby a large cave that measures 60 by 30 feet. Evidence found in the rock shelter date inhabitants back to 9,000 B.C., one of the oldest sites of human occupancy in North America. This site now falls under the protection of the Natural Bridge and Rockshelter State Natural Area.
Copyright ©2010 Benjamin Prepelka
All Rights Reserved