Scenic USA - North Carolina
Each day Scenic USA presents a new and interesting photo feature from somewhere in the United States. Chosen from a wide variety
of historic sites, city scenes, backcountry byways, points of interest and America's best parklands, this site offers the viewer hundreds
of unique vacation destinations and photographic subjects. Each feature is coupled with a brief explanation. For further detailed
information, links to other sites are provided, but are never to be considered an endorsement.
Hollowell Park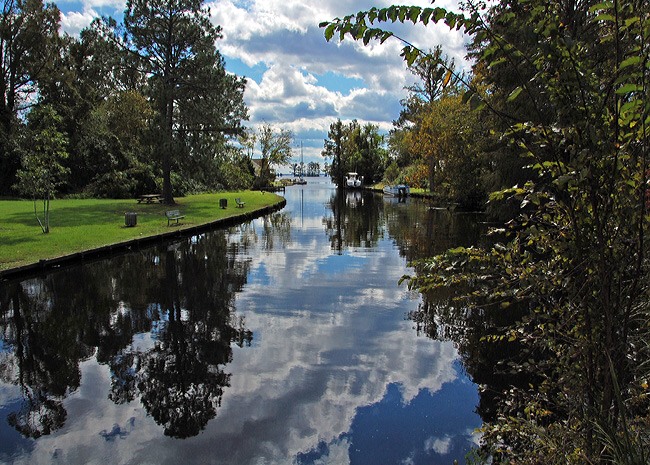 As North Carolina's U.S. Route 17 heads northward from Wilmington, the highway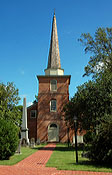 follows the Atlantic coastline and Onslow Bay. At Camp Lejeune, 17 turns inland through pastures and fields, and wide open plains. Near Williamston and Windsor, the route takes a turn eastward toward Historic Edenton and the Albemarle Sound. After crossing the Chowan River, coastal visitors will find North Carolina's second oldest town. Incorporated in 1722, the busy port city of Edenton was built on one of the largest freshwater sounds in North America. Fed by two main rivers, the Roanoke (an endangered river)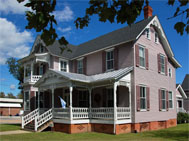 and Chowan, these tea colored waters are teaming with species of both fresh and saltwater fish and crabs.
This view of Filberts Creek is found just to the west, in the outskirts of Edenton. The peaceful Hollowell Park offers a quiet picnic area and inland waterway access. The creek-side setting is just a short distance from the huge Albemarle Sound and its excellent fishing grounds. Here in Chowan County, the Gateway to the Outer Banks, residents and guests are able to enjoy both the natural beauty of coastal estuaries, plus the historic landmarks of North Carolina's second oldest city.
Copyright © 2012 Benjamin Prepelka
All Rights Reserved