Scenic USA - Washington
Scenic USA offers a collection of select photographs from a wide variety of attractions, points of interest, historic sites, state and
national parks found throughout the United States. Each photo feature is coupled with a brief explanation.
For further detailed information, links to other related sites are provided.
Picture Lake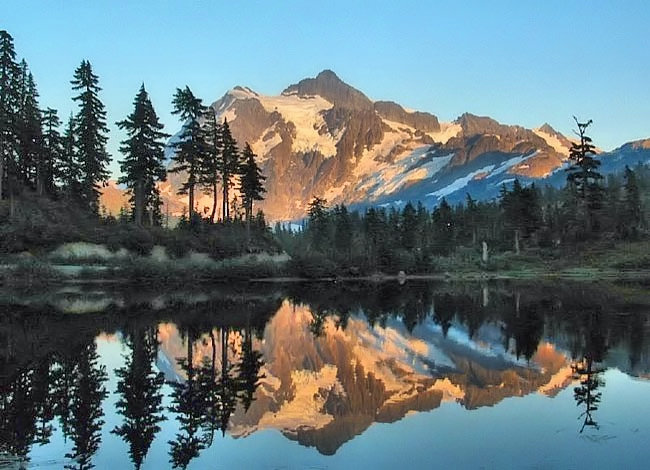 Photographers spend a great deal of effort looking for angles to eliminate reflections and glare. Others wait for days until the weather is right for reflective scenes such as this splendid view of Picture Lake and Mount Shuksan. Reflective scenes bring out the creativity in a photographer, sometimes offering vast improvements in a rather mundane view.
This viewpoint along Washington's State Route 542 is far from average. In fact, the surrounding Mt. Baker-Snoqualmie National Forest is often the most visited forest in the country. This photogenic area on the west side of the Cascades, between the Canadian border and Mt. Rainier National Park, is endowed with snow-covered peaks, spectacular mountain meadows, alpine lakes, and dense forests. And here on the Mt. Baker Scenic Highway, from Bellingham to Artist Point, the scenery is just spectacular. Shuksan, a mass of ridges, pinnacles, and glaciers, is one of the most photographed peaks in the Cascade Range. This combination scene of Picture Lake and Mount Shuksan is hard to surpass.
Copyright ©2010 Benjamin Prepelka
All Rights Reserved