Scenic USA - California
Scenic USA offers a collection of select photographs from a wide variety of attractions, points of interest, historic sites, state and
national parks found throughout the United States. Each photo feature is coupled with a brief explanation.
For further detailed information, links to other related sites are provided.
Huntington Beach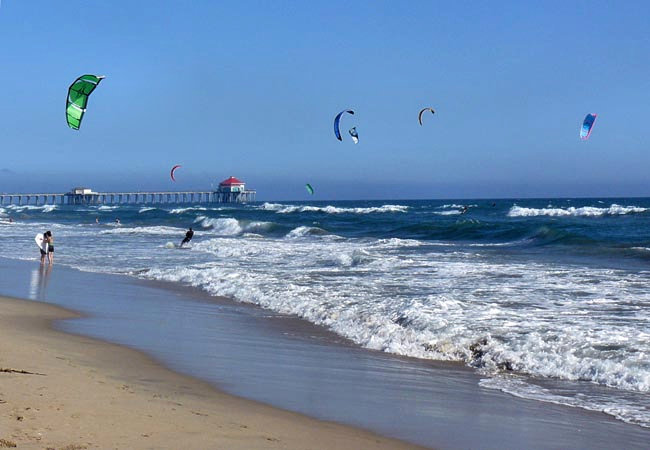 Sights and sounds fill the air on this California beach. Colorful kites and ocean breezes power these freestyle extremists over the Pacific surf, a radical sport that has taken off over the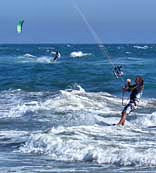 last decade. One of a handful of new extreme sports, kiteboarding or kitesurfing is not for everyone, taking raw talent or some pre-training measures. New material and improved designs have brought almost a quarter million riders to the sport. Kiteboarding subtleties range from wakestyle and waveriding to freestyle, jumping and cruising.
This picture of the Day catches a group of surfers on the Huntington State Beach. Centered about halfway between Long Breach and Newport Beach, the Huntington and Bolsa Chica state beaches extend for nine miles on the northern Orange County coast. These broad beaches , under state controls, have been transformed from the old Shell Beach and Tin Can Beach, to today's popular attractions, perfect for hiking, biking and picnicking. Huntington Beach is best known as the site for the Pro/Am Surf Series Surfing Competition.
Copyright ©2008 Benjamin Prepelka
All Rights Reserved