Scenic USA - Nevada
Each day Scenic USA presents a new and interesting photo feature from somewhere in the United States. Chosen from a wide variety
of historic sites, city scenes, backcountry byways, points of interest and America's best parklands, this site offers the viewer hundreds
of unique vacation destinations and photographic subjects. Each feature is coupled with a brief explanation. For further detailed
information, links to other sites are provided, but are never to be considered an endorsement.
Stokes Castle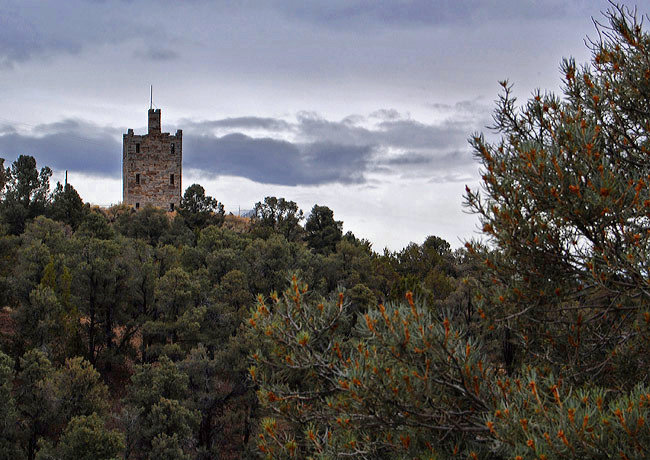 With discovery of the Comstock Load, one of the richest mines on Earth, it's no surprise that the Silver State attracted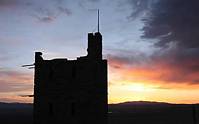 more than its share of prospectors and entrepreneurs. Here in central Nevada, the silver rush was humorously suggested to have started by a Pony Express rider that kicked over a rock. Named after the famous town in Texas, Austin's population quickly grew to 10,000 people, all hoping to make a fortune. Anson Phelps Stokes, railway magnate, mine developer and member of a prominent eastern family, moved to Austin in the early 1860s. Stokes went on to restart the Manhattan silver mine, bought the rights to the Nevada Central Railroad, and invested heavily in the Austin-Manhattan Tunnel. His legacy includes 25 years of losses, fraud, embezzlement, bankruptcy, and the Stokes Castle.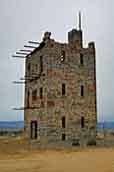 The castle was designed as a summer home in Austin, following the layout of an Italian medieval tower that Anson Stokes had seen in Campagna, Italy. Built of local granite, the huge building stones were hoisted into place with a hand winch. Each of the three floors featured a fireplace and plate glass windows. The second and third floors, the living room and bedrooms (respectively), offered grand views of the Reese River Valley from cantilevered balconies. The rooftop was completed with a terrace and surrounded by battlements, which now have toppled to the ground. Unfortunately after its completion in 1897, the Stokes family spent no more than a month at the castle, selling off their Reese Valley mine shares, equipment and castle in 1898.
Copyright © 2012 Benjamin Prepelka
All Rights Reserved