Scenic USA - Maine
Each day Scenic USA presents a new and interesting photo feature from somewhere in the United States. Chosen from a wide variety
of historic sites, city scenes, backcountry byways, points of interest and America's best parklands, this site offers the viewer hundreds
of unique vacation destinations and photographic subjects. Each feature is coupled with a brief explanation. For further detailed
information, links to other sites are provided, but are never to be considered an endorsement.
Bar Harbor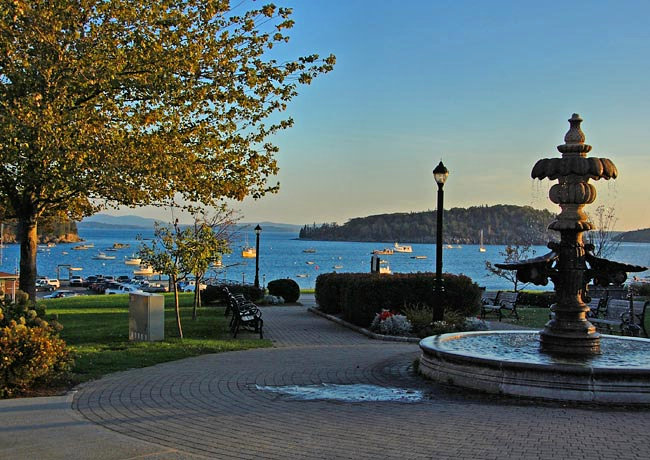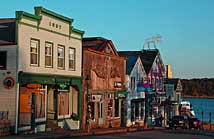 Settled in 1763, downtown Bar Harbor is synonymous with Maine's coastal heritage. Located on Mount Desert Island, the vibrant village is also surrounded by one of America's most popular national parks. With the Acadia National Park just minutes away, visitors find great places to eat, shop, and overnight in the seaside village, plus marvelous views of Frenchmans Bay.
This view from Agamont Park overlooks the town pier and harbor. Here on a rise on the corner of West and Main, Bar Harbor guests and residents may enjoy watching the maritime traffic on the bay, or a walk along the Shore Path that follows the coastline for about a mile.
This exception little village offers just about everything a Maine vacation ought to be, whether it's enjoying this harbor view, the town's historic district, or all that Acadia National Park has to offer. From town, hikers may take the Great Meadow Loop, a trail that passes through private lands (thanks to their generosity), and on to Acadia's Great Meadow.
Established in 1916, the parkland now covers more than 49,000 acres. Early risers can be the first on the east coast to watch the sun rise from Cadillac Mountain. At the Jordon Pond House, founded in the 1870s, park visitors may snack on popovers and strawberry jam.
Attracting vacationers worldwide, Bar Harbor is proud of its part in a fresh idea of ecotourism. Keeping the park and village green, a recent conference developed plans to actively promote responsible tourism, a way to protect both natural and cultural heritage. This is one way to insure 21st century guests continue to experience the best that Bar Harbor and Mount Desert Island has to offer.
Copyright © 2012 Benjamin Prepelka
All Rights Reserved