Scenic USA - Massachusetts
Scenic USA offers a collection of select photographs from a wide variety of historic sites, points of interest, and both state and
national parks found throughout the United States. Each photo feature is coupled with a brief explanation.
For further detailed information, links to other related sites are provided, but in no means are they an endorsement.
Usen Castle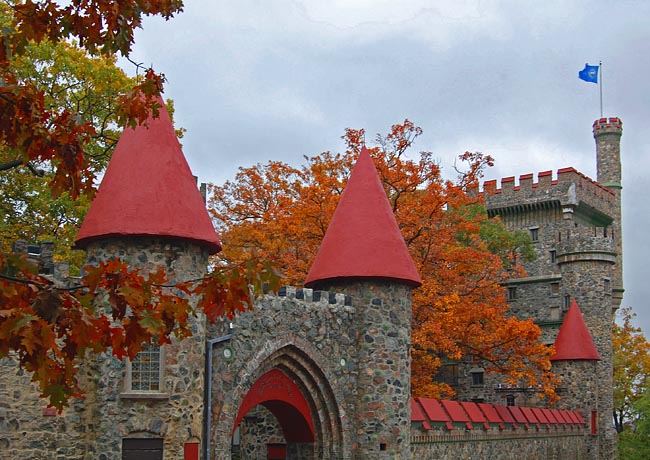 Those unfamiliar with the Boston metro area may be surprised to find Usen Castle perched upon Boston Rock in Waltham, Massachusetts. This four story castle offers students of Brandeis University skyline views of Boston and bragging rights to this very unique Gothic style dorm.
Once the centerpiece of Middlesex University, the Usen Castle was built on a rock promontory first surveyed by John Winthrop in 1632. Built in 1928, during the Depression Era, the castle was designed to create an aura of mystique. Named for Irving and Edyth Usen, the castle was built from the outside in, resulting in a wide variety of pie shaped rooms, unusual passageways and secret rooms. Mimicking the details of Windsor Castle, the university icon now provides housing for sophomores, a pottery studio, student lounge, and Chum's Coffee House.
On the brink of financial collapse in the mid 1940s, Middlesex University leaders approached Israel Goldstein, a prominent rabbi from New York City. Key figures, including Albert Einstein and Goldstein, established Brandeis University in 1948. Today, the private research university enrolls over 5000 students and ranks in the top 40 national universities. Usen Castle, the only original building on campus, has to be the coolest dorm in the country.
Copyright ©2011 Benjamin Prepelka
All Rights Reserved