Scenic USA - Mississippi
Scenic USA offers a collection of select photographs from a wide variety of attractions, points of interest, historic sites, state parks and
national parks found throughout the United States. Each photo feature is coupled with a brief explanation.
For further detailed information, links to other related sites are provided.
Pass Christian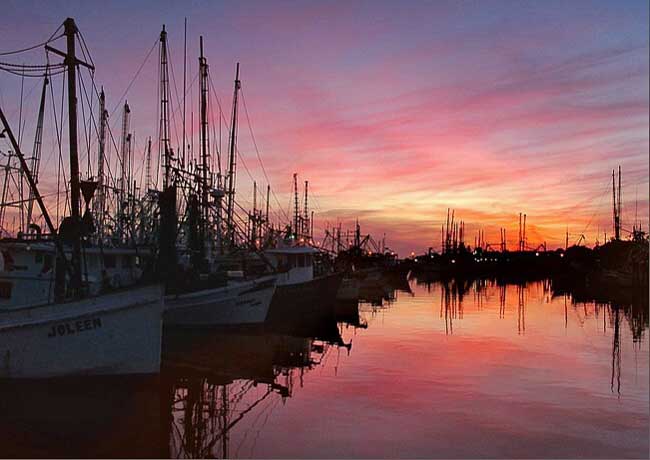 This vivid twilight scene at Pass Christian (kris-chee-ANN) catches a fleet of shrimp boats berthed for the night. A second, more thoughtful look may have you wondering why arenít some of these boats out on the Gulf dragging their nets. Well, today thereís a lot of talk among Mississippi shrimpers contemplating one of the worst years for shrimping. Plenty of cheap imports have dropped prices to 1970 levels, but back then diesel fuel was only 30 cents a gallon. Today, some of these Gulf fishermen have been bypassing the middleman and selling directly to customers that come to the docks searching for wild whites. New harvest regulations and limitations have also cut into profits, tightening the noose on an already reeling economy.
Just recovering from one of the most intense hurricanes in history, Pass Christian was close to becoming completely destroyed by Hurricane Katrina. Part of the Gulfport and Biloxi metropolitan area, nearly 70 percent of the homes were either damaged or completely lost.
This deep water pass, named for Nicholas Christian Líadnier, was home for a line of shoreline mansions. Beginning in 1849, Pass Christian was the place for the nouveau riche from New Orleans. The area was complete with beach homes, a yacht club and all the trimmings of a resort town.
Although economic times are dismal today, these Pass Christian residents can still enjoy a dramatic Mississippi sky.
Copyright ©2010 Benjamin Prepelka
All Rights Reserved