Scenic USA - New York
Scenic USA offers a collection of select photographs from a wide variety of historic sites, points of interest, and both state and
national parks found throughout the United States. Each photo feature is coupled with a brief explanation.
For further detailed information, links to other related sites are provided, but in no means are they an endorsement.
Vanderbilt Mansion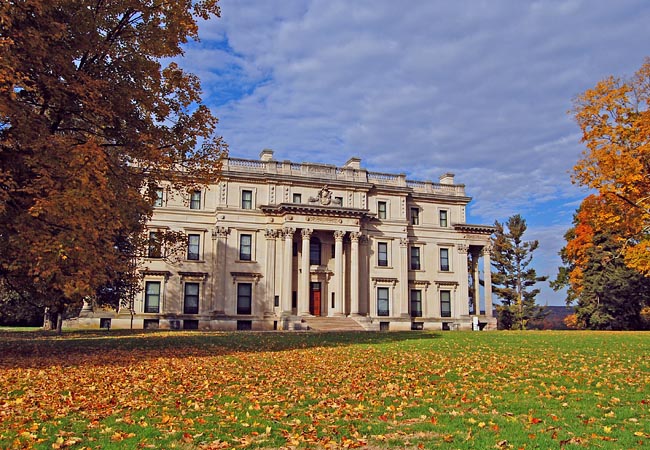 Joining a small colony of millionaires on the Hudson River, Frederick Vanderbilt purchased a 600 acre estate between Albany Post Road and the river. Although rundown and neglected, Vanderbilt recognized its potential.
The Vanderbilts moved into their new home on the Hudson River bluff in late 1899, even though the 50 room classical structure wasn't completed until the following spring. Designed by Charles Follin McKim, the modern steel and concrete structure was faced with a brilliant Indiana limestone. The mansion included central heat, indoor plumbing, a direct current electrical system and was considered fire proof. Interior furnishings and decoration, designed by the flamboyant Stanford White, added more than double the cost of the structure.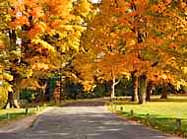 Like most Hyde Park residents, the Vanderbiltís used their mansion only a few weeks during the spring and fall. A staff of sixty was required to maintain the house and gardens throughout the year, while the family spent summers in Newport and winters in New York City. After Louise Vanderbilt died in 1926, Fredrick stayed at the Hudson home full time. Upon Frederick's death in 1938, Louise's niece, Margret, told neighbor President Franklin Roosevelt of her desire to donate the mansion to the federal government.
Today, the National Parks Service maintains the Vanderbilt Mansion National Historic Site and its contents, remaining practically unchanged since 1940. The Vanderbilt Mansion is open for tours from 9 to 5, and the beautiful grounds remain open until sunset.
Copyright ©2011 Benjamin Prepelka
All Rights Reserved