Scenic USA - Washington
Scenic USA offers a collection of select photographs from a wide variety of attractions, points of interest, historic sites, state parks and
national parks found throughout the United States. Each photo feature is coupled with a brief explanation.
For further detailed information, links to other related sites are provided.
Dungeness Spit
Strong currents sweep into the Strait of Juan de Fuca from the Pacific, between Vancouver Island and the Olympic Peninsula. Throw in additional northwest winds and waves, and you have the longest sand spit in America. Every year the Dungeness Spit grows by 15 feet. Now over five and a half miles long, the spit not only creates a navigational hazard, but an important inner bay. On the lee side of the narrow spit, seals and shore birds congregate to feed in this rich estuary.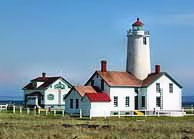 Recognized early on as an important preserve, President Woodrow Wilson established the 630 acre Dungeness National Wildlife Refuge in 1915. The refuge includes parts of Dungeness and Graveyard spits, and Dungeness Bay. Appearing as a white spec near the horizon, it takes anywhere between four to six hours to hike the roundtrip to the lighthouse. Although itís a long walk (or an easy boat trip), there is a golden opportunity for those that ever wished to be a lighthouse keeper. The New Dungeness Lighthouse is one of the oldest beacons in the northwest, and is now managed by the New Dungeness Light Station Association. Their goal is to offer the finest example of a historic lighthouse restoration, and strives for excellence in their preservation program. Members of the association further these efforts, and are also offered a chance to become a small part of history as a lighthouse keeper.
Copyright ©2010 Benjamin Prepelka
All Rights Reserved