Scenic USA - Nevada
Scenic USA offers a collection of select photographs from a wide variety of attractions, points of interest, historic sites, state parks and
national parks found throughout the United States. Each photo feature is coupled with a brief explanation.
For further detailed information, links to other related sites are provided.
White Domes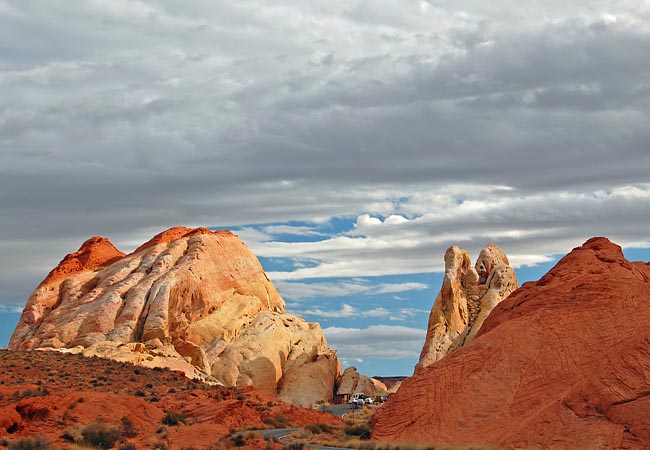 About an hour north of Las Vegas lies Nevada's oldest and largest state park. Dedicated in 1935, the Valley of Fire gets its name from the brilliant red rock that dominates the landscape. This part of the Mojave Desert, just north of Lake Mead, holds a treasure trove of ancient rock art, natural sandstone arches, and acres of red rock scenery.
This view of White Domes appears almost out of place among all the surrounding red rock formations. The White Domes Trailhead is found in the extreme northern section of the park, but still attracts plenty of attention. The mile and a quarter mile trail loop leads up between the White Domes over a thick deposit of soft sand, then down to a narrow slot canyon of the Kaolin Wash and remnants of a 1966 movie set from The Professional.
Ancient underground streams percolated through thick layers of sand, cementing particles together with calcite. The slower the water moved, the more calcite was deposited, creating hard spots in the stone. Today, wind and rain are turning these large rock formations back into sand; a never ending process of building a fiery desert landscape.
Copyright ©2010 Benjamin Prepelka
All Rights Reserved