Scenic USA - West Virginia
Scenic USA offers a collection of select photographs from a wide variety of attractions, points of interest, historic sites, state and
national parks found throughout the United States. Each photo feature is coupled with a brief explanation.
For further detailed information, links to other related sites are provided.
Midland Trail National Scenic Byway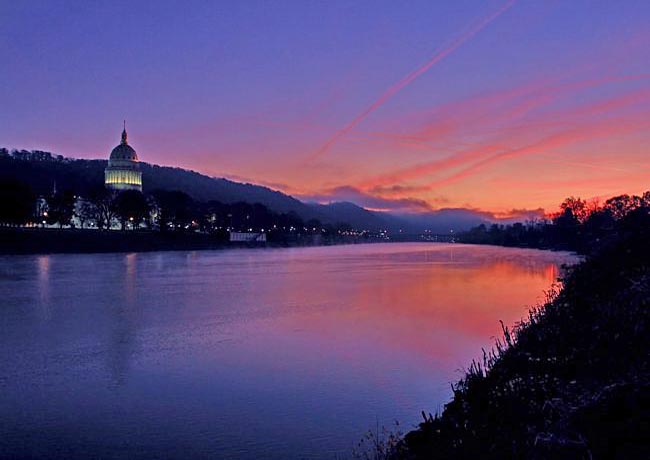 One of West Virginia's scenic byways follows U.S. Route 60 from White Sulphur Springs to the state's capitol. This hundred mile highway closely follows the pre-Revolutionary Midland Trail, and winds through the rugged Allegheny Mountains. George Washington realized the importance of the Indian trail and ordered the path widened in 1790.
Charleston, the capitol city, lies at the western end of Midland Trail National Scenic Byway. Other interesting features along the way are a couple of southern West Virginia's popular state parks, Babcock and Hawksnest; as well as the New River Gorge Visitor Center and overlook, the Lost World Caverns and the West Virginia University Institute of Technology.
Pictured above is the Charleston Capitol Building, a fine example of 20th century classical architecture. Caught in morning's first light, the capitol overlooks a quiet Kanawha River, one of West Virginia's most important waterways. The Kanawha is formed at the confluence of the Gauley and New River, and flows northwest, joining up with the Ohio River at the border. The New River and Kanawha River were once viewed as a single river, now two of the remarkable scenic wonders of the Midland Trail.
Copyright ©2008 Benjamin Prepelka
All Rights Reserved