Scenic USA - Idaho
Scenic USA offers a collection of select photographs from a wide variety of historic sites, points of interest, and a large
sampling of America's parklands. Each photo feature is coupled with a brief explanation.
For further detailed information, links to other related sites are provided, but in no means should they be considered an endorsement.
Northwest Passage Byway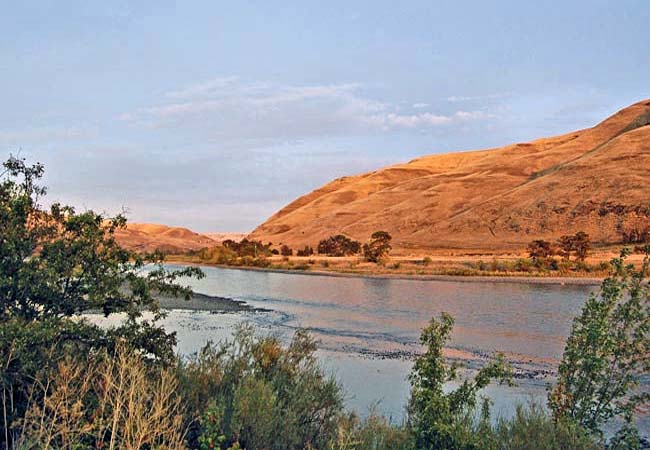 Idaho's Northwest Passage Scenic Byway traces the footsteps of the Lewis and Clark Expedition as they searched for a route from the Missouri River to the Columbia. This 200 mile byway follows Route 13 and U.S. Route 12, from Lolo Pass Visitor Center, near the Montana border to the west at Lewiston. Idaho Route 13 leaves Route 12 at Kooskia Crossing, leading to the Camas Prairie and the town of Grangeville. At Eimers Park, byway travelers will find an ancient Tolo Lake mammoth, and the nearby Nez Perce National Historic Park and White Bird Battlefield.
At the west end of the byway, visitors will enjoy a beautiful setting on the Snake River at Hells Gate State Park, a gateway to one of America's deepest gorges. Eastward, a little side trip to the Nez Northern Perce National Historic Park at Spaulding presents byway guests with discoveries of both contemporary and historic Nez Perce cultures.
Continuing eastward along the Clearwater River, byway travelers find where Lewis and Clark spent six weeks in 1806. This late afternoon view captures the Clearwater near the Kamiah Riverfront Park were an interpretive kiosk describes the expedition's stay at Long Camp.
Further to the east, the Northwest Passage Byway passes both the Fenn and Lochsa Ranger stations built in the early 1900's. The byway ends at the Lolo Pass Visitor Center, the eastern gateway for guests entering from Montana. Here at the visitor center, travelers are introduced to Nez Perce and Lewis and Clark Expedition history.
Copyright ©2011 Benjamin Prepelka
All Rights Reserved