Scenic USA - Oklahoma
Scenic USA offers a collection of select photographs from a wide variety of attractions, points of interest, historic sites, state parks and
national parks found throughout the United States. Each photo feature is coupled with a brief explanation.
For further detailed information, links to other related sites are provided.
Tallgrass Prairie Preserve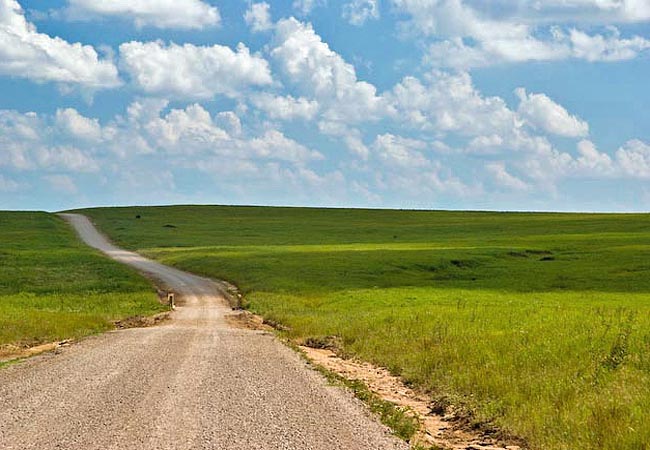 One of the largest remnants of America's tallgrass prairie is found in northeast corner of Oklahoma. This 37,000 acre ecosystem is a very small part of the original Midwest grassland that once spanned 14 states and covered over 140 million acres. The massive belt of prairie tallgrass, stretching from Texas to Canada, has almost completely disappeared during the last 150 years.
The majority of the Tallgrass Prairie Preserve land, recently purchased in 1989, was once the Chapman-Barnard Ranch. The Nature Conservancy, in an attempt to recreate an authentic tallgrass prairie, implemented prescribed burns and introduced 300 bison to the acreage. This southern section of the Flint Hills now protects 39,000 acres of contiguous tallgrass prairie, numerous wildlife critters and 500 species of plants.
A scenic 35 mile route takes visitors into the heart of the tallgrass preserve, introducing several dominate species of tallgrass. The big bluestem, named for the color of its prominent stem, often grows to ten feet tall. Indian grass, prairie cordgrass, switchgrass and little bluestem are also important forage crops. The prairie is also a spectacular sight when found covered in a sea of wild flowers. Early summer sees fields of black-eyed Susans, wild indigo, prairie larkspur, cone flower and butterfly milkweed that put on a showy blanket of color.
The historic Barnard Ranch bunkhouse now doubles as the preserve headquarters. Just north of Pawhuska, the no-fee preserve is open from dawn to dusk. Thanks to the Adopt-a-Bison program, (now discontinued) the herd numbers 25 thousand; quite a thrill for those never seeing a buffalo.
Copyright ©2010 Benjamin Prepelka
All Rights Reserved