Scenic USA - Arkansas
Scenic USA offers a collection of select photographs from a wide variety of attractions, points of interest, historic sites, state parks and
national parks found throughout the United States. Each photo feature is coupled with a brief explanation.
For further detailed information, links to other related sites are provided.
Shores Lake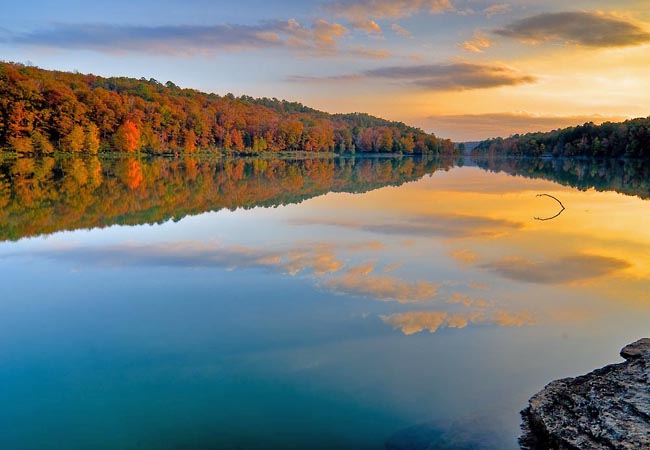 Tucked into the southwest corner of the White Rock Wildlife Management Area, not far from Fort Smith, Shores Lake is one of those little gems of the Ozarks. Found at the end of the Arkansas Route 215, this cozy little park setting and campground site is a great introduction to the White Rock Mountain Area. This wonderful reflective view shows off the 82 acre lake, the recreation areaís main feature. Noted for its handicapped friendly accessibility, fishing, picnicking, camping, hiking and boating round out the bundle of lakeside recreation activities.
Arkansas, famous for its Ozarks, is fortunate to have over a million acres of Ozark national forestland. Here in the Boston Mountain Ranger District, the mountain scenery is spectacular, and only grows better when fallís colors sweep across the mountainsides. The Shores Lake Loop Trail treats it visitors to views of waterfalls, area wildlife and upland forests of hardwoods and shortleaf pines. The forest also becomes a special sight in the spring when dogwood and redbud are in full bloom. One of five of the stateís wilderness areas, Shores Lakes is one of those unique forest service attractions.
Copyright ©2010 Benjamin Prepelka
All Rights Reserved