Scenic USA - Colorado
Scenic USA offers a collection of select photographs from a wide variety of attractions, points of interest, historic sites, state and
national parks found throughout the United States. Each photo feature is coupled with a brief explanation.
For further detailed information, links to other related sites are provided.
Spruce Tree House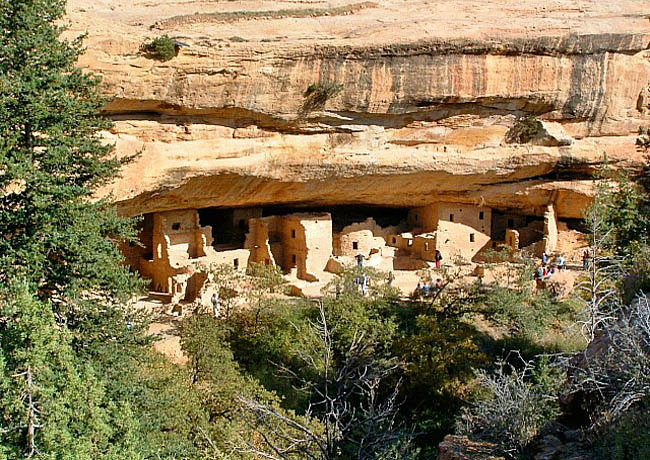 Spruce Tree House, home to ancestral Puebloan people, dates back to the early 1200s. The cliff dwelling contains about 130 rooms and 8 kivas (ceremonial chambers), built into a recess that measures 216 feet across and nearly 90 feet high. Sometimes called Anasazi, these early American Natives lived and farmed atop the mesa for nearly eight centuries. Today, visitors descend down a winding path to the natural sandstone shelter, and one of the best preserved dwellings in Mesa Verde National Park. At the park there are a dozen preserved cliff dwellings and archaeological wonders built among scenic canyons. Other dwelling tours are much more challenging than Spruce Tree House. Some are located high in the cliffs and require access by way of tall wooden ladders. Balcony House observers must climb a 32 foot ladder and crawl through a tunnel for close up views, adding an additional element of adventure.
The park entrance is a short drive from Cortez, Colorado, a town geared toward park visitors. Some of the town's buildings date back to the 1890's and offering additional points of interest in the area.
Copyright ©2006 Benjamin Prepelka
All Rights Reserved