Scenic USA - Florida
Scenic USA offers a collection of select photographs from a wide variety of attractions, points of interest, historic sites, state parks and
national parks found throughout the United States. Each photo feature is coupled with a brief explanation.
For further detailed information, links to other related sites are provided.
Black Point Drive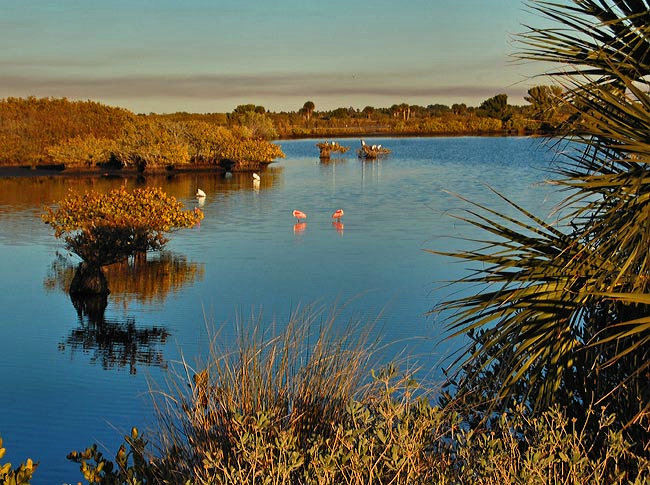 One of Floridaís east coast long shorelines thatís not lined with condominiums and beachfront homes is scattered with other structures. The 60 mile stretch of coastline, Central Florida's Canaveral National Seashore and Merritt Island Wildlife Refuge, is dotted with huge steel and concrete rocket launch pads. Although much of the this area lies in the restricted zone of Kennedy Space Center and Canaveral Air Force Station, north Merritt Islandís Black Point Wildlife Drive offers visitors a unique perspective of Floridaís salt marshes, mud flats, and island hammocks.
In this view recent rains have covered over the coal-black mudflats, creating a peaceful reflective view.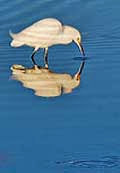 Itís a rare day when the air is still and the tiny islets and mangrove tree roots are covered in water. This broad expanse of salt marsh is divided up by dikes constructed for mosquito control. These dikes make a perfect roadbed to drive in and around the shallow water impoundments. The Black Point Drive creates a seven mile route through one of the nation's premier birding sites. Here, eagles nest among the tall slash pine hammocks, and herons are commonly seen wading in the shallow pools. During the winter months thousands of migratory waterfowl and songbirds sweep into the refuge, some traveling nearly 6000 miles from their summer haunts. The refuge supports thousands and thousands of ducks, coots, terns and raptors. The mud flats and shallow marshes team with life, ranging from microorganisms, to shrimp, small fish and crabs. Located on a migratory route, the wildlife refuge provides an important rest stop for large increases of bird populations.
Copyright © 2010 Benjamin Prepelka
All Rights Reserved