Scenic USA - Virginia
Scenic USA offers a collection of select photographs from a wide variety of attractions, points of interest, historic sites, state and
national parks found throughout the United States. Each photo feature is coupled with a brief explanation.
For further detailed information, links to other related sites are provided.
Marriott Ranch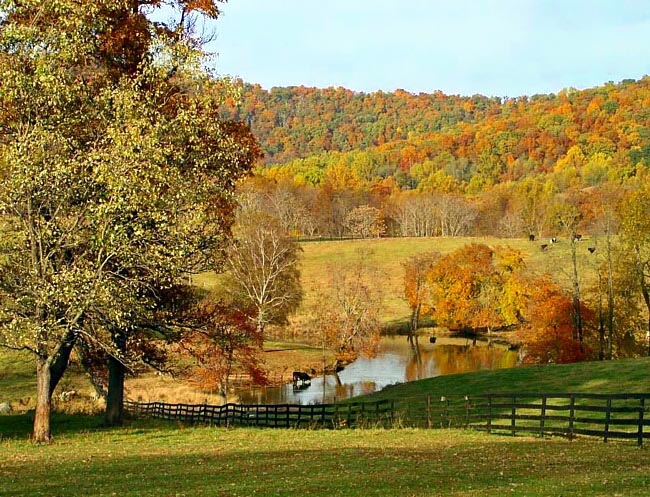 The Marshall Manor House, cornerstone of the 4,200-acre Marriott Ranch, is operated by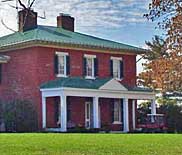 Marriott International as a bed and breakfast. The Inn at Fairfield Farm (the official name) offers 10 well-appointed guest rooms, each with a fireplace and private bath. The inn boasts a long history of well-known guests, including former President Ronald Reagan and King of the Cowboys, Roy Rogers. Waiting outside is a sprawling, working ranch nestled in Virginia's scenic Shenandoah Valley with spectacular views of the Blue Ridge Mountains where 1,500 head of cattle roam the range. Guests can fish in well-stocked ponds, go for long walks past grazing longhorns and even go on a cattle round-up.
The property was discovered in 1951 by J. Willard Marriott Sr., and had reminded him of his childhood years on the family farm in Utah. The farm continues to serve as a getaway for the Marriott family, their employees and friends as well as a popular location for corporate retreats and training events. Located in Hume, Virginia, the ranch is about 55 miles from Washington, D.C., and just a few miles from Front Royal and the start of the Blue Ridge Parkway and Skyline Drive.
Copyright ©2008 Benjamin Prepelka
All Rights Reserved