Scenic USA - Nevada
Scenic USA offers a collection of select photographs from a wide variety of attractions, points of interest, historic sites, state and
national parks found throughout the United States. Each photo feature is coupled with a brief explanation.
For further detailed information, links to other related sites are provided.
Red Rock Canyon
Those drawn to the Vegas sparkle, with its mega-resorts and casinos, decadent spas, and the grand Strip, will come to realized the town is surrounded by mountains. Las Vegas, built on the plains of the Mojave Desert, lies flanked by the Sunrise Mountains to the east, and the Spring Mountains to the west. These western peaks, formed along a fault line, were pushed skyward by the Keystone Thrust, reaching altitudes of 8,000 feet.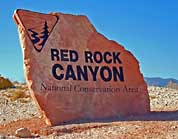 The Red Rock area, just west of Las Vegas, is managed and protected by the BLM. Covering 200,000 acres, Red Rock Canyon National Conservation Area has become quite popular, seeing over a million visitors every year. Covering much of the southwest, this immense red dune was one of the largest sand fields ever to exist on earth. Nevada's Aztec sandstone, made up of ancient lithified dunes, measures over 9,000 feet thick. A 13 mile scenic drive winds through this geological wonderland, thought to have been created 180 millions years ago.
Copyright © 2009 Benjamin Prepelka
All Rights Reserved