Scenic USA - Wisconsin
Scenic USA offers a collection of select photographs from a wide variety of attractions, points of interest, historic sites, state and
national parks found throughout the United States. Each photo feature is coupled with a brief explanation.
For further detailed information, links to other related sites are provided.
Rockwell Lighthouse (Buckstaff's Light)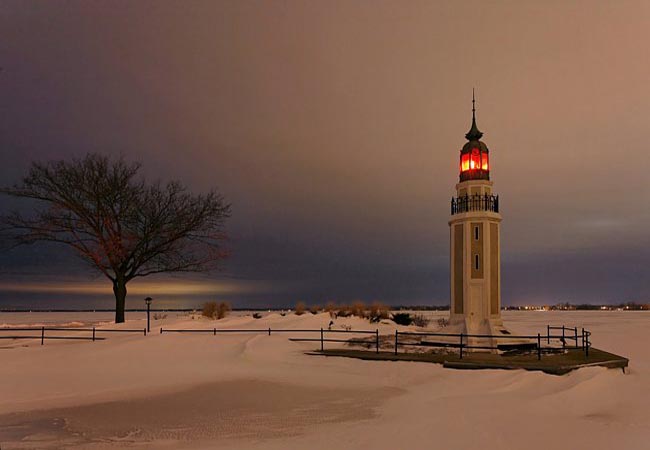 Although Wisconsin borders on two of the five Great Lakes, this beautiful lighthouse is found inland, gracing the town of Oshkosh and the shoreline of Lake Winnebago. Located west of Lake Michigan, Lake Winnebago's waters flow toward Green Bay via the Fox River.
The ornate Rockwell Lighthouse, a landmark since 1909, was built on Bray's Point at the mouth of the Fox River. The lighthouse tower was designed by George Andrews Rockwell shortly before his death. With plans to build his friend's lighthouse, William Bray acquired the land at today's Bray's Point. After failing to convince the government of the need of a lighthouse, Bray went on to build this elegant structure with his own funds. Bray's Point became a showcase in Oshkosh, where Bray hosted parties and entertained friends.
In 1917, the government realized the light's importance and began paying its operational costs. During a 1980s Oshkosh redevelopment program, the plan not only focused on the town, but included Rockwell Lighthouse (also known as Bray's Point or Buckstaff lighthouse) as well. With its smooth stucco finish and delicate ironwork, the light was restored and relit. Although Rockwell Lighthouse is located in a park-like setting, the lighthouse remains on private property and it's always best to seek permision for a close-up photograph.
Copyright ©2006-2009 Benjamin Prepelka
All Rights Reserved