Scenic USA - South Carolina
Scenic USA offers a collection of select photographs from a wide variety of attractions, points of interest, historic sites, state and
national parks found throughout the United States. Each photo feature is coupled with a brief explanation.
For further detailed information, links to other related sites are provided.
Bald Rock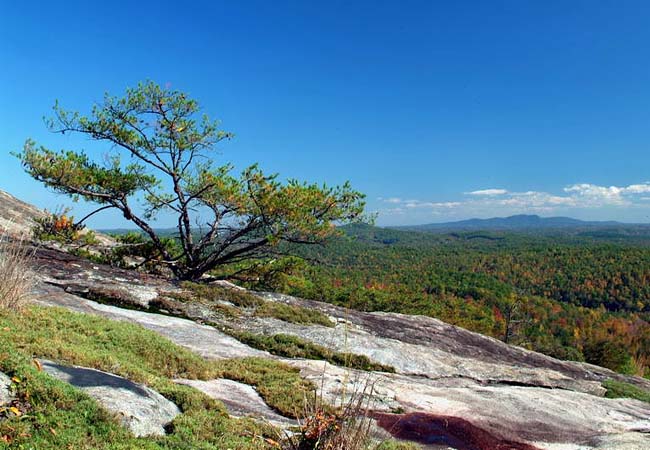 Taking Exit 1 from I-85 at the Georgia – South Carolina border, starts sightseers off on a beautiful drive along the Cherokee Foothills National Byway. Discover a half dozen state parks in this area of South Carolina's Upcountry, along with the state's highest point, Sassafras Mountain.
A right turn onto Route 276 ultimately leads to Caesar's Head State Park, part of Mountain Bridge Wilderness Area. Climbing up to the breathtaking views at Caesar Head, this super flexuous road uses a series of switchbacks. Along the way up you'll find Bald Rock a good stopping point. The 165 acre wayside park is a great introduction to the area's woodlands, its massive granite monadnocks, and Mountain Bridge Wilderness hiking trails. These granite outcroppings are surrounded by an Upcountry Cove hardwood forest ecosystem. The forest includes Monkernut hickory, magnolia, yellow buckeye, cucumber trees, and a wide variety of wildflowers and ferns. Eastern hemlock help keep the area green during the Carolina winter. A popular trail system is interwoven throughout the Caesar's Head and Jones Gap state parks, and the splendid Mountain Bridge Wilderness.
Copyright ©2010 Benjamin Prepelka
All Rights Reserved