Scenic USA - Tennessee
Scenic USA offers a collection of select photographs from a wide variety of historic sites, points of interest, and a large
sampling of America's parklands. Each photo feature is coupled with a brief explanation.
For further detailed information, links to other related sites are provided, but in no means should they be considered an endorsement.
York Mill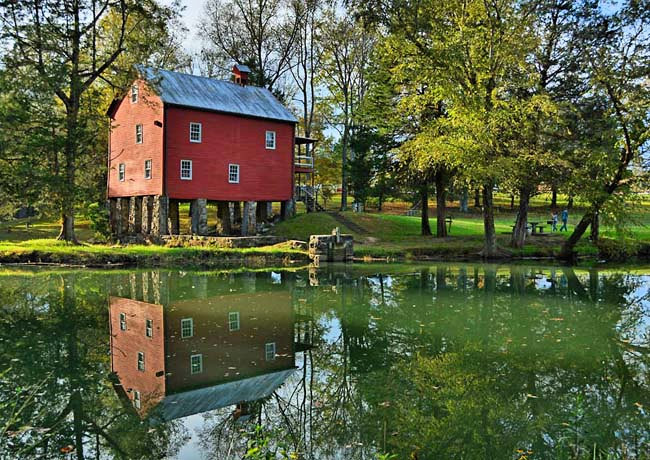 Sgt. Alvin C. York returned from World War I as a hero, and became one of America's most celebrated soldiers. He arrived in Pall Mall, Tennessee, to a massive ceremony lead by Governor A.H. Roberts. After a hero's welcome, the Rotary Club pledged to pay for a new home in Pall Mall for the Yorks. Here in the Wolf River Valley the newlywed York's enjoyed 400 acres where his great-great grandfather, Conrad "old coonrod" Pile, once owned over a thousand acres.
In time, York established a general store and post office across the street from his two and a half story home. In 1943, York added a grist mill that occupied the big curve on the Wolf River (An American Heritage River) across the highway from his home. Built in the 1880's, the two story mill rests on stacked rock columns, and produced power from a large submerged water turbine.
Upon York's death, his widow Gracie sold the mill to the State of Tennessee. The mill, was first added to Pickett Lake State Park, but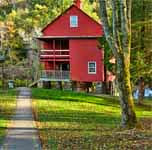 with the addition of the York residence and general store, the York Estate was separated into its own historic park site. The York State Historic Site received a National Historic Landmark designation in 1976.
The York Mill and home are open for daily tours, and the general store doubles as a visitor center. There's a wonderful picnic area and pavilion adjacent the mill along this beautiful site on the Wolf River.
The Wolfe River Cemetery is nearby, including the graves of Conrad Pile, his early descendants, and the York family.
Copyright ©2011 Benjamin Prepelka
All Rights Reserved