Scenic USA - Oregon
Scenic USA offers a collection of select photographs from a wide variety of historic sites, points of interest, and a large
sampling of America's parklands. Each photo feature is coupled with a brief explanation.
For further detailed information, links to other related sites are provided, but in no means should they be considered an endorsement.
Oregon Dunes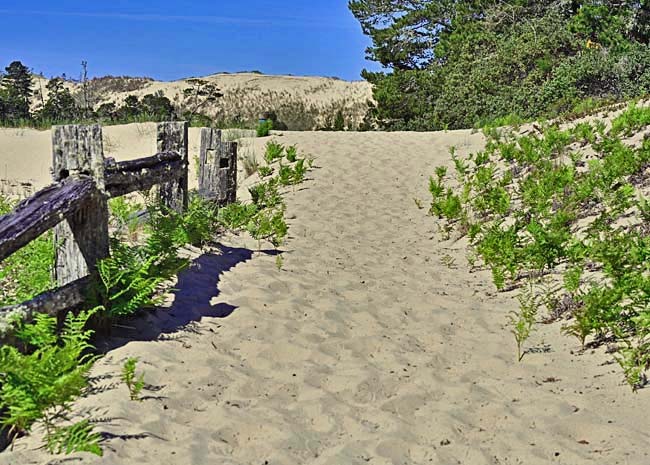 A vast expanse of towering dunes, interrupted by pine islands and hummocks, stretch along the Oregon coastline for 50 miles, from Florence to Coos Bay. This is the site of Oregon Dunes National Recreation Area, the largest line of coastal dunes in North America. More than a popular beach park,
rec area visitors go sailing, canoeing, hiking, waterskiing and wildlife viewing. With miles of sand dunes, some reaching over 500 feet, this coastal setting provides the perfect site for the most popular pastime, riding the dunes.
Three classes of off-road-vehicles are permitted in certain sections of the recreational area. Vehicles include ATVs, 4 wheel drive vehicles, dirt bikes and sand rails. DuneFest 2011 is set aside each year to offer kids a safe area for all skill levels and ages. The five day event, considered as the best sporting event in Oregon, sponsors over a dozen activities.
Although sandboarding has been around since the 1980s, it took the addition of Sand Master Park in Florence to introduce this extreme sport to thousands. Similar to snowboarding, riders glide down the dune slopes on a small wood, race base, or plastic sandboard. Unlike snowboarding, this sport can be enjoyed any time of year.
Copyright ©2011 Benjamin Prepelka
All Rights Reserved