Scenic USA - Michigan
Scenic USA offers a collection of select photographs from a wide variety of attractions, points of interest, historic sites, state and
national parks found throughout the United States. Each photo feature is coupled with a brief explanation.
For further detailed information, links to other related sites are provided.
Silver Lake Dunes Park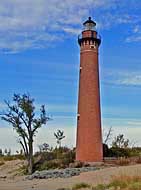 Little Sable Light, one of Michigan's picturesque lighthouses, is set in this soothing beach scene area. Located on a point of land west of Hart, the area not only draws visitors to the lighthouse, but also the huge dunes of Silver Lake.
Just west of Silver Lake and the main section of the park is this stretch of inviting beach. During the warm summer months, lakeside is the place for beach-going fun. Sunshine, and cool water make for a perfect day on Lake Michigan. Later in the year, when temperatures begin to cool, a lakeshore stroll can be relaxing and offer more scenic sights. Sunsets, the 107 foot brick light-tower, blue lake waters and sand dunes are some of the small wonders found in this Michigan playground.
Copyright ©2008 Benjamin Prepelka
All Rights Reserved