Scenic USA - New Hampshire
Scenic USA offers a collection of select photographs from a wide variety of attractions, points of interest, historic sites, state and
national parks found throughout the United States. Each photo feature is coupled with a brief explanation.
For further detailed information, links to other related sites are provided.
Ellis River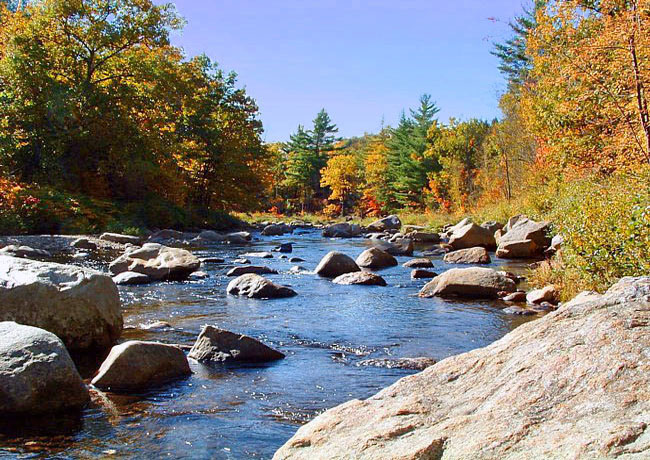 After driving through the White Mountains it's easy to see why New Hampshire is called the Granite State. The most visible evidence is found in the granite outcroppings on many mountainsides. More proof is seen from Route 16 as it follows along this beautiful stretch of the Ellis River. Here, tons of granite boulders are seen littered up and down the streambed. The Ellis River begins its southerly journey on the eastern slope of Mount Washington, passes down the Crystal Cascade and cuts through Pinkham Notch. There at the Notch, the Ellis drops over Glen Ellis Falls and continues through the peaceful village of Jackson. Here, the picturesque, 133 year old Honeymoon Bridge crosses the Ellis, still supporting light traffic. The Ellis ends as it joins the Saco River just south of the town of Glen. New Hampshire Route 16 continues southward toward the two Conways and on to Mount Chocorua. Route 16 may lose its appeal in the busy tourist town of North Conway, but continuing south to Chocorua Lake is one sight that shouldn't be missed. Although this highway is not designated as a scenic byway, it certainly qualifies as a scenic drive.
Copyright ©2009 Benjamin Prepelka
All Rights Reserved