Scenic USA - Oklahoma
Scenic USA offers a collection of select photographs from a wide variety of attractions, points of interest, historic sites, state and
national parks found throughout the United States. Each photo feature is coupled with a brief explanation.
For further detailed information, links to other related sites are provided.
Black Mesa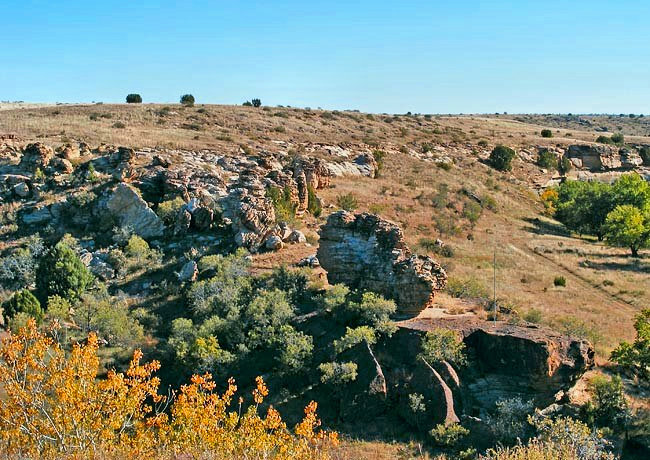 While scanning the horizon from Oklahoma's Black Mesa State Park there's a good chance spotting the highest point in the state. Just 14 miles to the north, Black Mesa stretches across the horizon. Formed of volcanic rock nearly 180 million years ago, the sprawling mesa covers parts of Oklahoma's panhandle, as well Colorado and New Mexico. Part of the Great Plains Trail, the area is noted for its wildlife, as well as ancient fossilized plants and animals embedded in the six hundred feet thick lava flow. A challenging four mile hike leads to the to the top of the mesa, elevation 4,973 feet.
Black Mesa State Park, also covered in a layer of black lava, takes in 350 acres of rugged terrain. The park, located in the extreme northwest corner of the state, offers 56 campsites, and a large group site. The 160 acre Lake Carl Etling, with five miles of shoreline, provides an ideal spot for fishing and swimming. For the angler, the lake is stocked with trout from November through April. Two hiking trails are located within the park. The rather easy Black Mesa Bird Haven Trail covers about a quarter mile. The more advanced Mesa Vista Trail, nearly a mile in length, follows the rugged bluff-line and is labeled moderately difficult.
Copyright ©2009 Benjamin Prepelka
All Rights Reserved