Scenic USA - West Virginia
Scenic USA offers a collection of select photographs from a wide variety of attractions, points of interest, historic sites, state parks and
national parks found throughout the United States. Each photo feature is coupled with a brief explanation.
For further detailed information, links to other related sites are provided.
Dolly Sods Scenic Area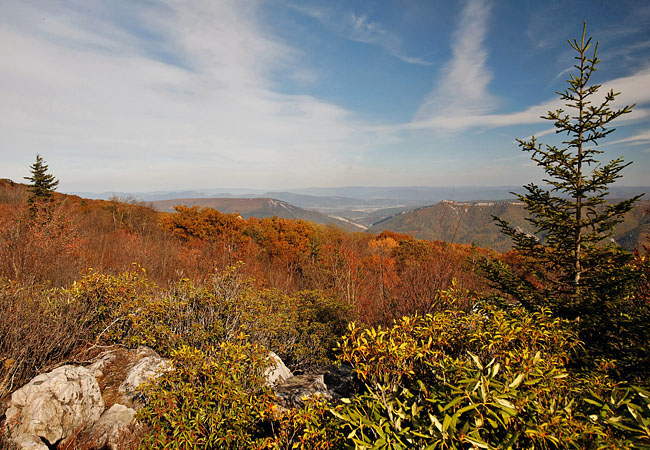 Part of a large tract of wilderness land in the Allegheny Mountains of eastern West Virginia, Dolly Sods is found atop one of the highest plateaus east of the Mississippi. Its dense forestlands, rugged terrain and catchy name add up to some of West Virginia's most fascinating, wild and scenic lands. Grouped with the Monongahela National Forest, Bear Rock Nature Preserve, and Canaan Valley National Wildlife Refuge, the entire Dolly Sods area has to be one of the state's noteworthy success stories. Once covered in an ancient forest of huge red spruce and hemlock (some measuring well over 12 feet in diameter), this timberland quickly gave in to area lumber mills. When this area was stripped of its tree canopy, the underbrush dried and easily succumbed to ravaging fire. The land remained barren, stripped of its forest and woodland denizens, until saved by the forest service.
The Dolly Sods name was an Americanized version of the first resident family sheepherders. The Dahle family, grazing their sheep in these West Virginia meadows (sods), gradually gave their name to the entire area. Today, this scenic area has recovered. Forest Road 75 allows visitors access to the Dolly Sods Scenic Area. This 2000 acre parcel is the most popular area of the Dolly Sods. Here in this tranquil scene, a pullout area looks out over the North Fork Valley. An extensive web of trails are interlaced throughout the wilderness. Between Dolly Sods and Flat Rock-Roaring Plains, ten trails lead hikers over 47 miles of woodland adventure.
Copyright ©2010 Benjamin Prepelka
All Rights Reserved