Scenic USA - South Carolina
Scenic USA offers a collection of select photographs from a wide variety of attractions, points of interest, historic sites, state and
national parks found throughout the United States. Each photo feature is coupled with a brief explanation.
For further detailed information, links to other related sites are provided.
Wigginton Memorial Byway
Sumter National Forest covers the foothills of South Carolina's extreme northwest corner. Coupling together SC's routes 107 and 413,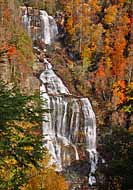 a 14 mile scenic byway starts from the south at Oconee State Park, crosses the border and ends at North Carolina's Whitewater Falls. This paved route, the Oscar Wiggington Scenic Byway, is also known as the gateway to the mountains.
Oconee State Park, one of South Carolina's little gems, is centered around this Picture of the Day, a 20 acre lake that's fed by cool mountain streams. The park has all the modern campground and rental cabin facilities. Geared toward family fun, the park staff acquaints its visitors with the basics of clogging, square dances, nature trails and naturalist lead activities.
Heading northward from Oconee Park, the byway passes a half dozen highlights, including the heavily wooded Sumter Forest, access to the 85 mile Foothills Trail, Cherry Hill Campground, Moody Springs Rec Area, Walhalla State Fish Hatchery, views of the East Fork of the Chattooga River, and the Ellicott Rock Wilderness. Across the border, don't miss North Carolina's byway overlooks and Whitewater Falls, one of the highest falls in east of the Mississippi.
Copyright ©2009 Benjamin Prepelka
All Rights Reserved