Scenic USA - Florida
Scenic USA offers a collection of select photographs from a wide variety of attractions, points of interest, historic sites, state parks and
national parks found throughout the United States. Each photo feature is coupled with a brief explanation.
For further detailed information, links to other related sites are provided.
A1A Scenic and Historic Coastal Byway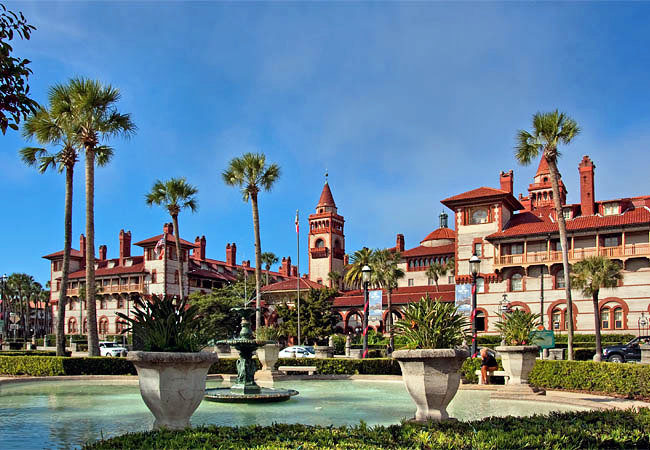 A narrow string of barrier islands outline the majority of Florida's east coast, creating a wonderful stretch of tropical shoreline. North Florida's A1A Scenic and Historic Coastal Byway leads travelers along 72 miles of inviting Atlantic beaches. The byway also passes through St. Augustine, billed as the nation's oldest city. A handful of causeways, connecting the mainland to the beach islands, climb up and over the Intracoastal Waterway. Boats seen cruising up and down the waterway are those daydreams that have turned into reality. Sailboats, catching an ever present wind, ply their artful maneuvers over the broad channel.
Heading southward, history cycles backward for 250 years at Fort Matanzas. Next stop, Anastasia State Park, one of the most popular coastal parks, offering amenities enhanced by a beautiful shoreline. Southward, the gardens at Washington Oaks State Park are the prime draw. Route A1A passes Gamble Rogers Memorial State Recreation Area, as well as Bulow Creek State Park. The southern end of the byway introduces visitors to the Ormond Scenic Loop and Tomoka State Park.
Pictured here is St. Augustine's Flagler College, once the grandest hotel on the coast. Henry Flagler left active duty at Standard Oil and headed to Florida in the hope that his wife's health would improve. St. Augustine barely survived a plague of yellow fever, and was brought back to life with Flagler's attention. Using his vast knowledge, wealth, and power, Flagler not only turned St. Augustine around, but established a railway southward to Miami and on to Key West, putting Florida's entire east coast in reach for all the northern states.
Copyright ©2010 Benjamin Prepelka
All Rights Reserved