Scenic USA - Maine
Each day Scenic USA presents a new and interesting photo feature from somewhere in the United States. Chosen from a wide variety
of historic sites, city scenes, backcountry byways, points of interest and America's best parklands, this site offers the viewer hundreds
of unique vacation destinations and photographic subjects. Each feature is coupled with a brief explanation. For further detailed
information, links to other sites are provided, but are never to be considered an endorsement.

Other nearby
Points of Interest
&nbsp
&nbsp
&nbsp
&nbsp
&nbsp
Sunday River Bridge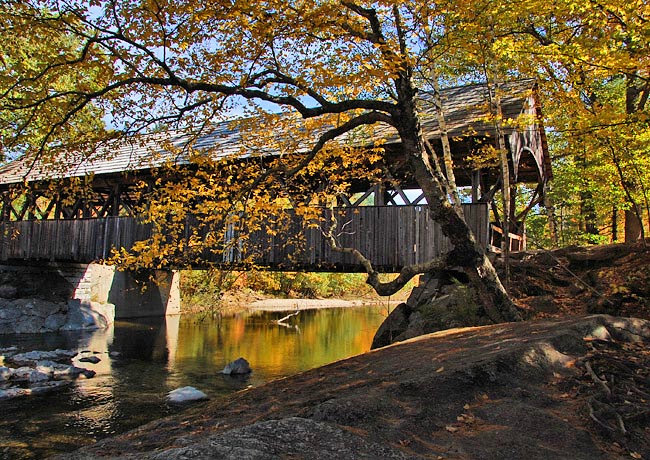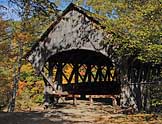 The Sunday River Covered Bridge, located about four miles from North Bethel, is better known as the Artist's Covered Bridge. Attracting both artists and photographers for over a century, this beautiful western Maine setting is likely the most photographed of all the remaining covered bridges in Maine.
Flowing down from Mount Carlo in the Mahoosuc Range, the Sunday River is joined by more than a half dozen brooks and streams on its 14 mile run to the Androscoggin River. Well known for its Class II and III whitewater, a paddler's challenge, the Sunday River mellows as it passes under the Artist's Bridge. Built in 1872, the bridge performed its duties for 86 years before bypassed by a modern structure.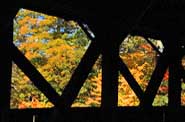 Featuring a Paddleford truss design, the 87 foot long bridge seems to attract a large crowd during a weekend. With fall's onset of colorful foliage, North Bethel and Newry's routes 2 and 26 attract many sightseers. When winter arrives, the Sunday River Ski Resort is one of Maine's most popular skiing destinations. Featuring a vertical drop of 2340 feet, skiers are spread over 133 trails. Operated by Boyne Resorts, Sunday River and sister resort Sugarloaf are two of Maine's favorites.

Sunday River Bridge Directions
Copyright © 2012 Benjamin Prepelka
All Rights Reserved