Scenic USA - New Mexico
Scenic USA offers a collection of select photographs from a wide variety of attractions, points of interest, historic sites, state and
national parks found throughout the United States. Each photo feature is coupled with a brief explanation.
For further detailed information, links to other related sites are provided.
Pyramid Peak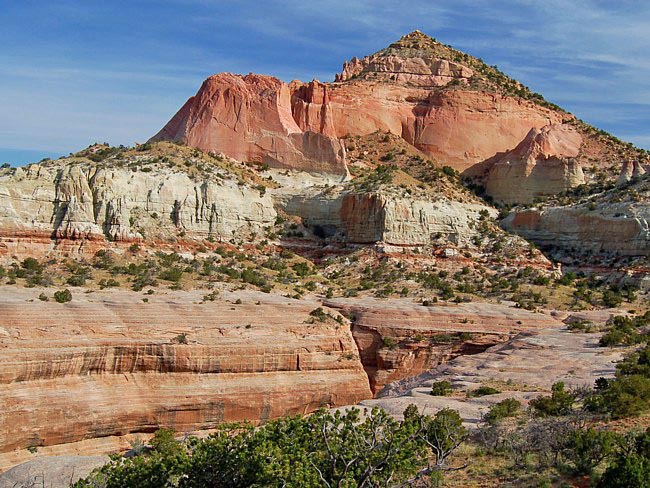 The red rock name is spread from Oklahoma to California, and is simply an immense collection of dramatic desert lands covered in a brick-red layer of sandstone. One of the many southwest red rock areas is found at Red Rock State Park nearby Gallup, New Mexico, opened in 1972. The 640 acre park includes a nice arrangement of amenities, including a rodeo area, convention center, campgrounds and the Red Rock Museum. Exhibits offer a glimpse into the lives of ancient civilizations as well as a look into the native cultures of the today's Hopi, Zuni and Navajo tribes.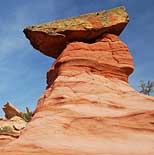 There's no secret about the park name as it is surrounded on three sides by bald, red rock cliffs. This land of sandstone layers date as far back as the Jurassic Age. The distinct red layers of sandstone are divided into two groups. The Dewey Bridge member of this group for a thick layer of reddish-brown stone, ranging from 30 to 60 feet thick. The reddish-orange top cap layer is a mixture of sandstone and siltstone, adding another layer of smooth rock some 100 to 400 feet in depth. Additional layers of rock jump from grays to pink and white. Pictured here is the Pyramid Peak found at the park, having a faint resemblance of Egypt's great stone tombs.
Copyright ©2006-2009 Benjamin Prepelka
All Rights Reserved