Scenic USA - Virginia
Scenic USA offers a collection of select photographs from a wide variety of attractions, points of interest, historic sites, state and
national parks found throughout the United States. Each photo feature is coupled with a brief explanation.
For further detailed information, links to other related sites are provided.
Daisey's Boathouse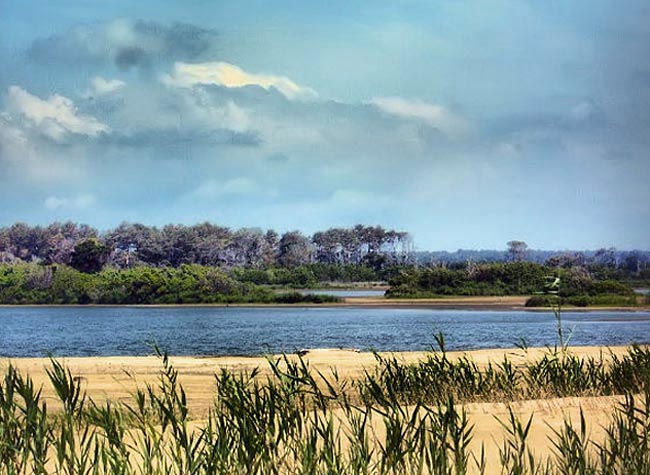 Nature is big on Assateague Island and the Chincoteague National Wildlife Refuge. Keep
your eyes open and you're likely to see wild ponies. A herd of about 150 ponies call the refuge home, as well as a variety of waterfowl and egrets by the hundreds.
One of the best ways to see the island's wild inhabitants and the red-and-white striped Assateague Lighthouse is by boat. Charter companies, like Daisey's Dockside Pontoon Cruises, depart Chincoteague Island throughout the day and evening. Feeling independent? Canoes, kayaks, bicycles and motorized carts are available for rent just about everywhere.
The refuge extends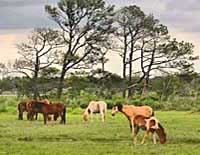 from Maryland to Virginia along the Assateague National Seashore. A second herd of about 150 horses live on the Maryland end, separated by a fence at the state line. The Virginia horses are owned by the Chincoteague Volunteer Fire Department, while Maryland's are managed by the National Park Service. Thanks to mother nature, Maryland's portion of Assateague Island was converted to a national seashore in 1965. Once open to private development, a 1962 hurricane cleared the dunes of its beach homes, and prompted government officials to reassess the entire island.
On Assateague Island, you're in the middle of wetlands, marshes and the Atlantic Ocean (plus hordes of mosquitoes), so visitors who want to stay overnight nearby do so on Chincoteague Island, a stone's throw away.
Copyright ©2008 Benjamin Prepelka
All Rights Reserved