Hartford Connecticut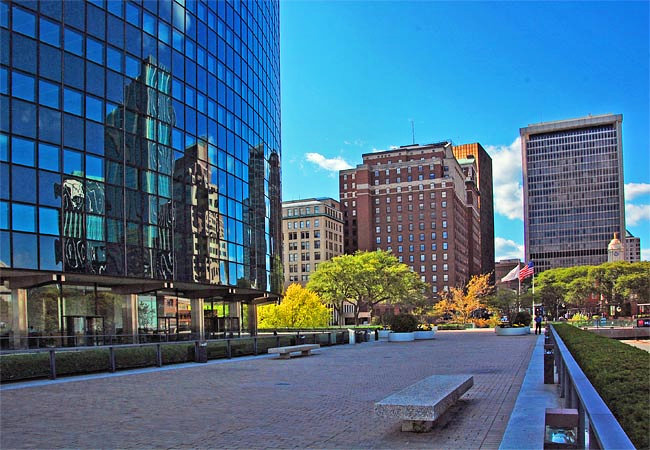 Approaching Hartford's center of the city from I-91, visitors are greeted with a most impressive line of skyscrapers, with One American Row requiring a second look. Home to Phoenix Mutual Life Insurance Company, the Boat Building looks much like a modern 21st century design. The 13 story office complex, built as an elliptic lenticular cylinder, measures only 87 feet at its widest point and tapers to a fine edge at both ends. Built in the early 60s, the building holds the rare distinction of a Silver LEED Green Building award and is also listed on the National Register of Historic Places in 2005.
Hartford, located on the Connecticut River, was settled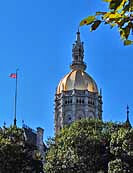 as a Dutch Trading Post in 1623. By 1636 a group of English settlers arrived, led by Rev. Thomas Hooker. Making peace with the local Algonquin Indians, the new arrivals named their town Hartford (Hertford). By 1639, a list of governing documents, called the Fundamental Orders, were drafted by the town's people. The idea of a government by the people gave birth to the United States Constitution, leading Connecticut to be nicknamed the Constitution State.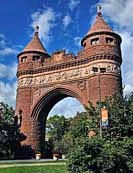 Hartford, well positioned on the Connecticut River, thrived as a trading center. Ships from Hartford traveled the world, including the destinations of England, the West Indies and the Far East. Fires, storms, accidents and pirates quickly led to an array of shipping concerns, spawning the nation's first insurance companies. Nicknamed the Insurance Capital of the World, Hartford is still recognized as home to largest American insurance companies.
Shaped by its 17th century founders, the city is a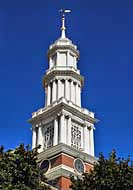 pleasant mix of historic sites and modern metropolitan buildings. Centered on Bushnell Park (another city park featuring the genius of Fredric Law Olmsted), the city is dotted with historic buildings. Center Church was founded by Thomas Hooker in 1636. Dating back to 1807, the present day church building was the forth meeting house of the First Church of Christ congregation. A Gothic monument, known as the Soldiers and Sailors Memorial Arch, spans Trinity Street. Made of Portland brownstone, the arch salutes members of the armed services who served in the Civil War. The Old State House, the oldest in the country, is surrounded by skyscrapers and doubles as a museum. Today's capitol building, with its detailed golden dome is seen rising above the treetops of Bushnell Park.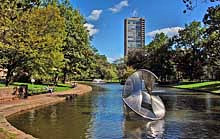 The Mark Twain home, once placed beyond the city limits, is now surrounded by a residential neighborhood.
Here in Connecticut's River Valley Region the greater Hartford area is one of those must see New England travel destinations. Clean city streets, sparkling windows and well attended landscapes; here it's easy to spot Hartford's city pride (especially in the downtown area). A city walking tour is also a living history lesson. This 90 minute tour offers a unique experience of city sites, stories, and the people that made Hartford's history.


Photographs by Ben Prepelka

Hartford Map
History Comes Alive Brochure