Scenic USA - California
Scenic USA offers a collection of select photographs from a wide variety of attractions, points of interest, historic sites, state parks and
national parks found throughout the United States. Each photo feature is coupled with a brief explanation.
For further detailed information, links to other related sites are provided.
Santa Barbara Harbor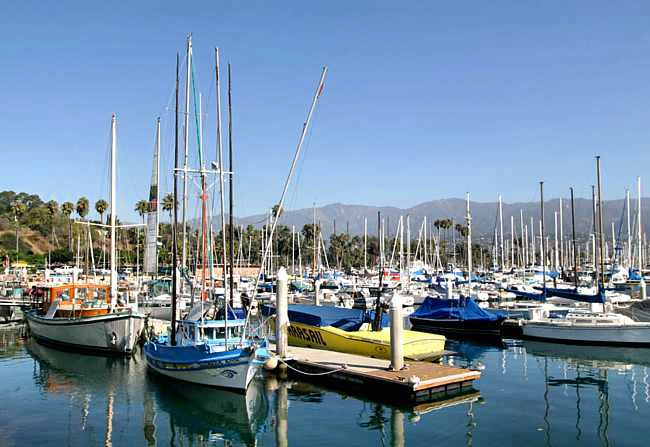 Intricate basketry, plank canoes, and the use of shell bead money contributed to the great success of the Chumash Tribe. A large group of independent villages were spread over todayís Santa Barbara area. A population of 18,000 natives, occupying the coast and Channel Islands, were greeted by the first Spanish explorers in the mid 1500s. During the Spanish mission period, natives were Christianized and educated in agriculture. Ranching and farming became the main occupation for the next 100 years.
Sometimes described as the American Riviera, San Barbaraís mild and inviting climate hasnít escaped a steady flow of tourists. Squeezed between the cliffs of the Santa Ynez Mountains and beach, Santa Barbara is recognized for its Spanish style architecture, downtown beaches, and its busy harbor. The 130 year old Stearns Wharf is dotted with charter boats, restaurants, bait and tackle shops, and a refurbished Ty Warner Sea Center. The Santa Barbara Harbor, seen here loaded with pleasure boats, is the key to the cityís prosperity. The busy port is still leads to plentiful fishing grounds, and important trade routes. The area remains a rich fertile farmland, and with further development, the town has blossomed into a well rounded community.
Copyright ©2010 Benjamin Prepelka
All Rights Reserved