A recent extension of the Silver Thread Byway has added 40 plus miles to this dramatic Colorado byway. Now beginning just west of Gunnison at the Blue Mesa Reservoir, the byway follows Route 149 southward to the towns of Powderhorn and Lake City, climbs over Slumgullion Pass (pictured here), passed North Clear Creek Falls, through the historic town of Creede, and ends at South Fork and the junction of U.S. Route 160.
On the southern end of the byway, in Mineral County, byway travelers have the opportunity to track down some of Colorado's most beautiful waterfalls. A few side trips lead to South Clear Creek Falls, Copper Falls, the Phoenix Park Waterfalls, and Treasure Falls. Just off SH 149, near Spring Creek Pass, waterfall fans will find one of the most photographed waterfalls in Colorado, North Clear Creek Falls.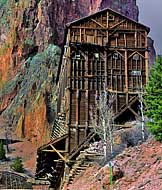 Living up to its name, Mineral County was the sight of massive volcanic activity millions of years ago, allowing vast amounts of ore to collect in the Creede Caldera. Named after prospector Nicholas Creede, the town of Creede joined countless mining town booms during the late 1800's. Centered on a rich vein of silver ore near Willow Creek, the town quickly topped a population of 10,000. Today the entire county lists only 850 full time residents. Here in Creede, byway travelers may be awestruck to see how mining structures hang onto steep mountain ridges. One of the most impressive mountain sites is found just south of town. Here, the Pillars of Hercules rise nearly 1000 feet, part of the dramatic byway scenery. Creede's historic district, including shops and an array of eateries, center on the streets where Soapy Smith, Calamity Jane, and Bat Masterson once walked. History buffs may want to follow the Bachelor Historic Loop tour, finding the Creede Cemetery and an old Catholic church.
Mineral County's San Juan Mountains also give rise to two of the Southwest's major rivers, the Rio Grande and San Juan. Adding plenty of green, the byway also borders on three national forest and two wilderness areas. Railfans may enjoy a vintage steam train tour, following the 1883 Denver and Rio Grande Railroads tour lines where therapeutic hot-springs and fishing lured in 19th century guests.