Scenic USA - Hawaii
Scenic USA offers a collection of select photographs from a wide variety of historic sites, points of interest, and a large
sampling of America's parklands. Each photo feature is coupled with a brief explanation.
For further detailed information, links to other related sites are provided, but in no means should they be considered an endorsement.
Ka'anapali Beach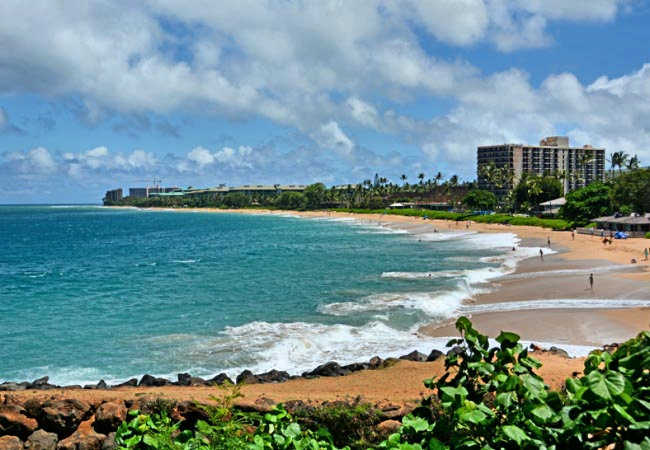 Golden sands, trade wind breezes, towering coconut palms and deep blue skies are a big part of the lure that Ka'anapali Beach holds. Here on Maui, vacationers arrive from all over the world to experience this classic Hawaiian beach scene. Located on the western tip of the island, Ka'anapali Beach is considered one of the best beaches on the island of Maui.
Named for a large, black lava flow that juts out from the the coastline, Black Rock divides Ka'anapali Beach in two. Black Rock is part of western Maui's last throes of volcanic activity, dating back a half million years. Now harboring coral growth and Hawaiian marine life, the area is a haven for young snorkelers. All are advised of a very strong currents, and it's suggested that the inexperienced to stay back from the point.
Along with Maui's wonderful scenery and marvelous blue waters, guests revel in the mild climate of the Hawaiian Islands. Although the interior of the western Maui Mountains is one of wettest places on Earth, the vast majority of showers are light and sort-lived. Maui's rainfall usually occurs during the night or morning hours, leaving the afternoons filled with Pacific Island sunshine. It's no wonder that Hawaii alway ranks among the top vacation islands in the world.
Copyright ©2011 Benjamin Prepelka
All Rights Reserved