Scenic USA - Ohio
Scenic USA offers a collection of select photographs from a wide variety of historic sites, points of interest, and a large
sampling of America's parklands. Each photo feature is coupled with a brief explanation.
For further detailed information, links to other related sites are provided, but in no means should they be considered an endorsement.
South Bass Island Light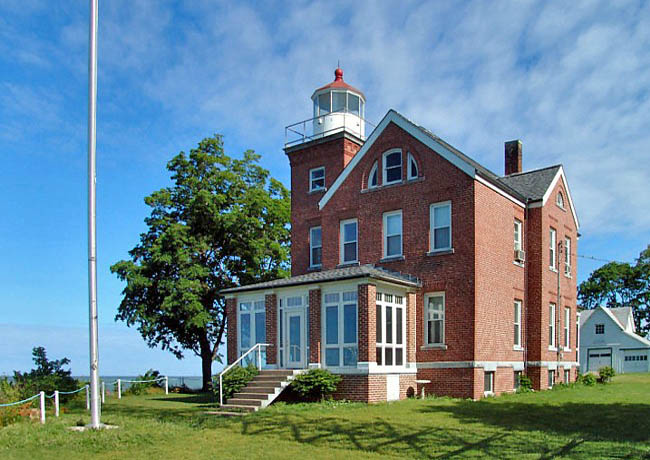 Just off the coast from Port Clinton and Sandusky, South Bass Island is one of a cluster of islands that spill out into Lake Erie. Here in Lake Erie's shallow western basin, native tribes of Erie, Shawnee, Ottawa, and Iroquois all used South Bass Island as a refuge from sudden squalls. The town of Put-in-Bay most likely received its name from early lake-going fur traders also seeking shelter. By the mid 1800's South Bass Island and Put-in-Bay became a popular tourist destination. Thriving during the Victorian Era, thousands of visitors arrived at South Bass Island by steamship.
During the late 1800's, the Lighthouse Board recognized the need to mark the southern channel from Sandusky to Toledo, Ohio. One of a string of lighthouse to mark this steamship route, South Bass Island Light was built on Parker Point in 1895. The large two and a half story keeper's quarters incorporated a three story brick light tower. The Queen Ann designed structure was eventually closed in 1962, and finally added to a list of surplus property. The Fresnel lens remains on the island at the Lake Erie Island Historical Museum.
Today, the light station, property of Ohio State University, is used to house university staff. The exterior remains in good condition, and appears much like it had during its heyday. Lighthouse tours are available occasionally, and remain part of the lure at this famous vacation destination. Guests today arrive either by plane or ferry, and enjoy the islandís fun and relaxing atmosphere.
History buffs enjoy Put-in-Bay's section of the 500 mile Heritage Trail, a salute to the War of 1812's Commodore Perry. Built as a symbol to lasting peace between Great Britain and the United States, Perry's Victory and International Peace Memorial was opened to the public in 1915. During the summer months, Put-in-Bay hosts bi-weekly symphony concerts at the Peace Memorial. With something to celebrate nearly every day, Put-in-Bay has remained a top tourist destination for the last century and a half.
Copyright ©2011 Benjamin Prepelka
All Rights Reserved