Scenic USA - Michigan
Scenic USA offers a collection of select photographs from a wide variety of attractions, points of interest, historic sites, state and
national parks found throughout the United States. Each photo feature is coupled with a brief explanation.
For further detailed information, links to other related sites are provided.
Huckleberry Railroad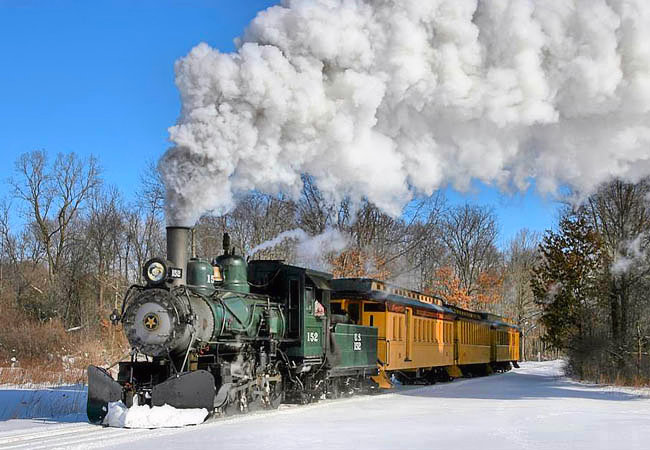 Flint's Huckleberry Railroad, with locomotive #152 in the lead, is one of the sweet tarts of scenic train tours. Here, the vintage steam locomotive pushes through a fresh blanket of Michigan snow. Winter white and the engine's coal black paint create a stark contrast along the former Pere Marquette Railway. Still in service, the 1920s locomotive was once a proud engine of the Alaska Railroad. Rescued from the scrap yard in Stockton, California, the reconditioned locomotive (a 4-6-0) became the prime engine for the Huckleberry Railroad over 14 years. Taken out of service for a major overhaul in 1990, the #464 was pressed into service.
The Huckleberry, running slow enough that you could jump off (and back on) to pick huckleberries, is also a collection of vintage cars and coaches. For railroad aficionados, the railroad owns and operates seven locomotives, two cabooses, a hopper car, and a motorcar. Every car, coach and caboose, as well as the popular steam locomotives, tell their own unique story, and relative history.
Copyright ©2008 Benjamin Prepelka
All Rights Reserved