Scenic USA - California
Scenic USA offers a collection of select photographs from a wide variety of historic sites, points of interest, and a large
sampling of America's parklands. Each photo feature is coupled with a brief explanation.
For further detailed information, links to other related sites are provided, but in no means should they be considered an endorsement.
Convict Canyon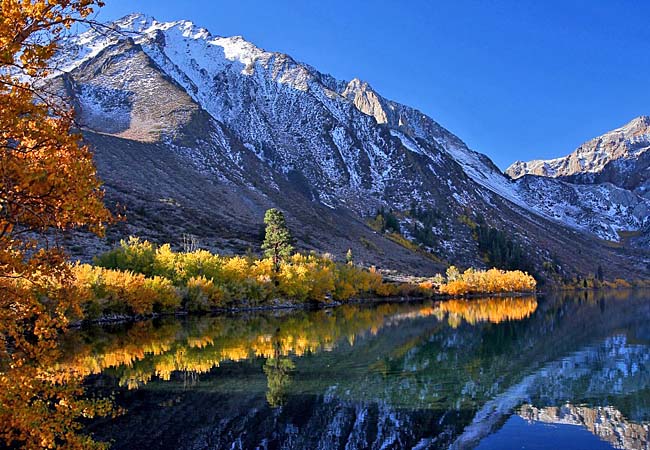 Convict Canyon Basin, made up of ancient metamorphic rock layers, is set apart from remainder of the magnificent scenery of the Sierra-Nevada Range. The trails here, just south of Mammoth, California, are not interconnected with the trail system of the Sierra-Nevadas. For this reason Convict Canyon is one of the least known points in the area.
This surreal view captures fresh green shoots of the sagebrush, deep blue waters of Convict Lake and the warm hues of an early morning sun as it casts its glow on the Sevehah Cliffs of Laurel Mountain. Displaying some of the oldest and most colorful strata in the range, the Convict Canyon name begs explanation. History relates a story of a band of lawless desperados that escaped a Carson City jail, finding a hideout in the canyon. Robert Morrison, leader of a posse, was killed in a shootout here and is remembered in the naming of Mount Morrison. It's unclear about the gang's fate, but with an inspired posse, one can guess the outcome.
Access to Convict Lake follows a six mile trail into the Sherwin Range, gaining nearly 2700 feet in elevation. Here, high above Convict Lake, photographers find the only way to capture this kaleidoscope of color requires an early start. The real adventurer may decide to spend the night. Awake and ready to capture first light pays off in this colorful scene. Up and ready to capture first light pays off in this colorful scene. For those with no desire for hiking, Convict Canyon Road leads up to the northeast end of the Lake. Either way, by foot or off road vehicle, this section of the Sherwin Range is tops for splendid mountain scenery.
Copyright ©2011 Benjamin Prepelka
All Rights Reserved