Scenic USA - West Virginia
Scenic USA offers a collection of select photographs from a wide variety of attractions, points of interest, historic sites, state parks and
national parks found throughout the United States. Each photo feature is coupled with a brief explanation.
For further detailed information, links to other related sites are provided.
Cook's Old Mill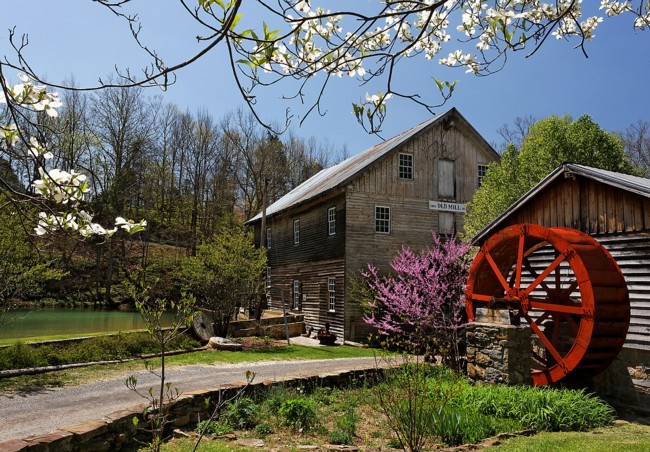 After a trying climb over the Allegheny Mountains with all their worldly possessions, Valentine and Susanna Cook settled in a fertile valley of present day West Virginia. Still considered Indian territory, it wasn't long before these fertile bottom lands were planted, Cook's Fort was erected, and the need for a convenient grist mill became evident.
Looking back over this part of Monroe County's early history, the town of Centerville (now Greenville) was established, the Indian Creek Post office was in place, and the Cook family hired James Humphreys to update with a replacement mill. Driven by a water wheel,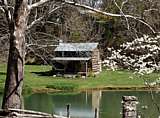 mill machinery (including hoppers, shoes, elevators, and bolters) were most likely built on the site. By the early 1900s, the wooden dam was replaced with concrete and reinforced with 100s of used horseshoes from the local smithy.
During the mid 1950s, small businesses found it difficult to compete with large conglomerates. The old mill changed ownership frequently, until refitted as a furniture store. Luckily for all mill aficionados, Jim and Nan Wells were able to buy and restore the building, using salvaged mill machinery. With the help of the West Virginia Department of Culture and History, an old forge building and log cabin were added to the property. Today, proud owners Fred and Barbara Ziegler continue with refurbishment and upkeep of the Cook's Old Mill, the miller's home (their residence) and out-buildings. Located on Route 122, just west of Greenville, the Zieglers look at the old mill as a labor of love.
Copyright ©2010 Benjamin Prepelka
All Rights Reserved