Scenic USA - Washington
Scenic USA offers a collection of select photographs from a wide variety of attractions, points of interest, historic sites, state parks and
national parks found throughout the United States. Each photo feature is coupled with a brief explanation.
For further detailed information, links to other related sites are provided.
San Juan Islands Scenic Byway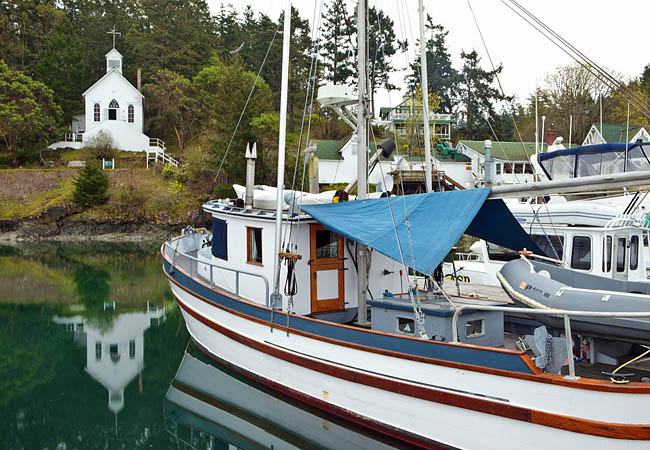 With average high temperatures between 45 and 70 degrees, the San Juan Islands seem the perfect vacation destination most any time of year. This large archipelago overflows with natural beauty and is steeped in arts, culture and island history.
Washington State's newest scenic byway, established in 2008, invites visitors to explore Orcas and San Juan islands. Connected to the mainland by state ferry service, the byway is divided into three segments. The first 30 mile leg of the byway crosses Puget Sound, from Anacortes to San Juan Island. Upon arrival, country roads lead to a long list of must see places, including American Camp NHP, Cattle Point Lighthouse, lavender and alpaca farms, vineyards, Lime Kiln State Park and lighthouse, whale watching overlooks, English Camp NHP, and this wonderful harbor view at Roche Harbor.
The Orcas Island tour, the third segment of the byway, is scattered over a horseshoe shaped island. Wrapped around East Sound, the byway branches out from Orcas Village, Moran State Park and Mount Constitution, the highest point in San Juan County. The east side of the island takes in Mountain and Cascade lakes, the Rosario Resort and historic Moran Mansion, Doe Bay Resort and Retreat, and Obstruction Pass State Park.
Copyright ©2010 Benjamin Prepelka
All Rights Reserved