Scenic USA - California
Scenic USA offers a collection of select photographs from a wide variety of attractions, points of interest, historic sites, state parks and
national parks found throughout the United States. Each photo feature is coupled with a brief explanation.
For further detailed information, links to other related sites are provided.
McWay Falls Overlook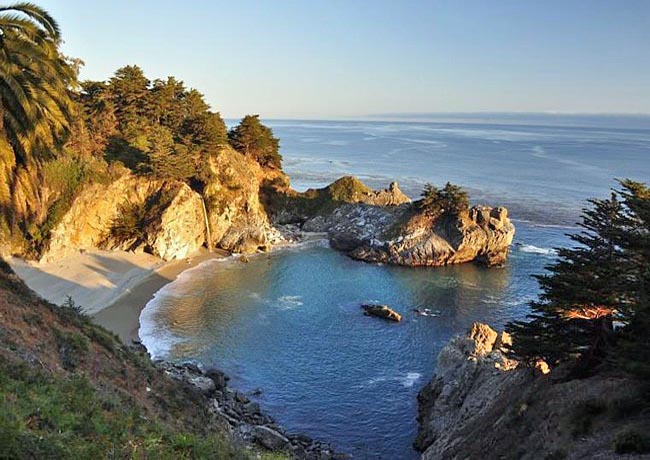 Californiaís Big Sur Region extends nearly 100 miles southward from Carmel, dominated by the coastal Santa Lucia Mountains. This area, well known for its grand scenery, was sparsely populated until U.S. Highway 1 arrived in 1937. It took another ten years before the area was connected to a power grid. One resident, Christopher McWay, took full advantage of this quiet sanctuary and Big Sur vistas on his Saddle Rock Ranch. Lathrop and Helen Hooper Brown, a former New York Congressman and his wife, purchased the Saddle Rock Ranch and built their home at today's Waterfall Overlook. Friend of neighboring Julia Pfeiffer Burns, Mrs. Brown eventually donated her 1800 acre ranchland to the state as a park, ensuring a lasting tribute to Juliaís memory.
Here at Julia Pfeiffer Burns State Park, the Big Surís dramatic cliffs drop hundreds of feet to the sea. McWay Falls, The only waterfall to drop directly into the Pacific Ocean, plunges 100 feet into McWay Cove below. A short trail leads out to McWay Falls Overlook, providing all visitors with this remarkable view.
Copyright ©2010 Benjamin Prepelka
All Rights Reserved