Scenic USA - Washington
Each day Scenic USA presents a new and interesting photo feature from somewhere in the United States. Chosen from a wide variety
of historic sites, city scenes, backcountry byways, points of interest and America's best parklands, this site offers the viewer hundreds
of unique vacation destinations and photographic subjects. Each feature is coupled with a brief explanation. For further detailed
information, links to other sites are provided, but are never to be considered an endorsement.

Other nearby
Points of Interest
Ginkgo Petrified Forest State Park
Columbia National Wildlife Refuge
Hillside Desert Botanical Gardens
Wild Horses Monument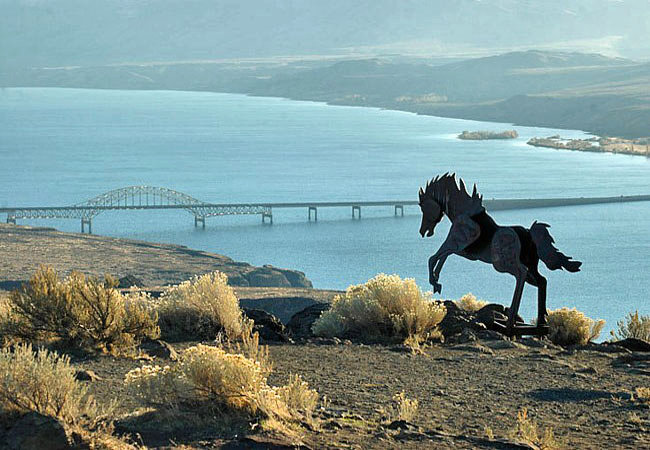 Seen from various viewpoints along I-90, Washington State's Wild Horses Monument manages to turn quite a few heads on the interstate. Artist David Govedare's life size sculptures, added during Washington State's Centennial Celebration, are entitled Grandfather Cuts Loose the Ponies. Hoping to capture the mystical spirits of a time that has passed, this 200 foot line of steel ponies remind us all of time when creatures were able to roam wild and free.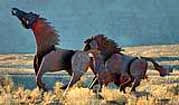 Wanapum Dam was proposed, the old Vantage Bridge was dismantled, and eventually reassembled over the Snake River at Lyons Ferry. The modern bridge, seen in this view, now carries I-90 traffic from Vantage to George, across Wanapum Lake.
These close-up views of the Wild Horses Monument are only accessed from I-90 eastbound. Concerned officials plead not to stop on the highway. Please exit the highway (Exit 139) to the scenic Area. The trail to the monument is steep and rocky and a bit of a challenge, but well worth the climb.

Scenic Area Map
Copyright © 2012 Benjamin Prepelka
All Rights Reserved