Scenic USA - New York
Scenic USA offers a collection of select photographs from a wide variety of attractions, points of interest, historic sites, state parks and
national parks found throughout the United States. Each photo feature is coupled with a brief explanation.
For further detailed information, links to other related sites are provided.
Belvedere Castle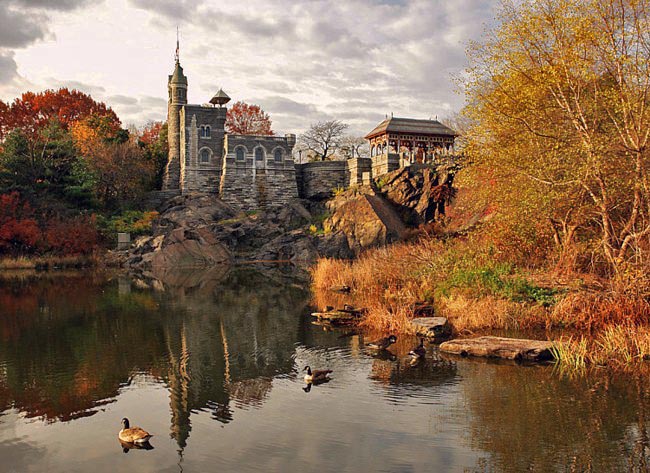 Built on one of the highest points in Central Park, Belvedere Castle was an additional feature designed in 1865. Adding an element of levity atop Vista Rock, Calvert Vaux, sculpture Jacob Wrey Mould and Fredrick Law Olmstead were brought back to oversee the park's completion. Designed to be built of Manhattan schist and dressed with grey granite, the castle was another one of the park's landscape elements. Mixing design styles of Gothic and Romanesque styles, some critics looked upon the castle as merely a frivolous shell.
Deterioration set in over the years, and the castle structure received a major renovation in 1982, introducing the Henry Luce Nature Observatory. The castle, geared toward children, now houses interactive nature exhibits, natural history artifacts, park ecological displays and microscopes for the little scientists. Field packs, containing binoculars, reference books and a map, are loaned out to guide youngsters in their explorations of the Ramble.
Today, the castle looks over the Great Lawn, the Delacorte Theater and the Turtle Pond. In this view, the Turtle Pond employs a mix of lizards tail, bulrush, turtlehead and blue flag iris to highlight the pond's border. Here in Central Park, in the midst of New York City, a variety of birds, amphibians and reptiles create a wonderful outdoor classroom for nature study.
Copyright ©2010 Benjamin Prepelka
All Rights Reserved