Scenic USA - California
Scenic USA offers a collection of select photographs from a wide variety of historic sites, points of interest, and a large
sampling of America's parklands. Each photo feature is coupled with a brief explanation.
For further detailed information, links to other related sites are provided, but in no means should they be considered an endorsement.
Nevada Fall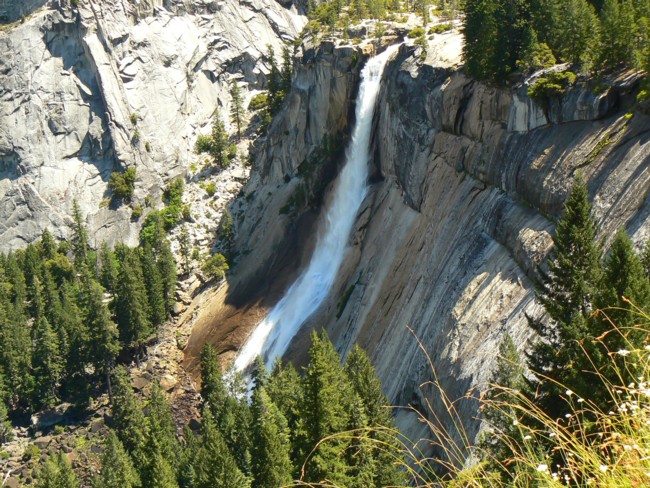 John Muir's countless testimonies of the grandeur at Yosemite in 1869 gave a powerful hint of what was to become of today's Yosemite National Park. During the past 25 years yearly visitation has topped the 3 million mark. Even during times of a slow economy and Yosemite Valley flooding, visitors still flocked to one of the most popular parks in the West. Known for its massive sequoia trees, the world's largest granite monoliths, miles and miles of back-country hiking trails, and its extreme rock climbs, Yosemite is best remembered for its large collection of powerful waterfalls. Among some of the tallest in the world, a few of Yosemite's waterfalls are easily viewed from the popular Yosemite Valley. Others require much more than an easy hike. Upper Yosemite Falls, dropping 1430 feet, requires a 6.8 hour round trip climb. While most Yosemite visitors look up to Nevada Fall, this top-side view captures the spectacular 600 foot drop as it plummets down the cliff face. Nevada, a Spanish word for snowy, best describes this torrent as it sprays its mist on everything below. Witnessing this waterfall view requires a strenuous hike, gaining 2000 feet in elevation up the John Muir Trail. With the steady stream of visitors well below the thundering roar, this hike sees the calm and serene side of Yosemite.
Copyright ©2011 Benjamin Prepelka
All Rights Reserved