Scenic USA - California
Scenic USA offers a collection of select photographs from a wide variety of historic sites, points of interest, and a large
sampling of America's parklands. Each photo feature is coupled with a brief explanation.
For further detailed information, links to other related sites are provided, but in no means should they be considered an endorsement.
Glass Beach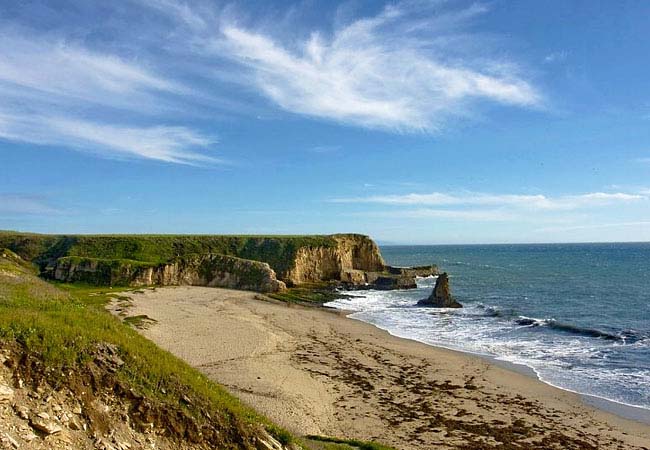 Ockham's razor, postulated by the 14th Century Franciscan friar William of Ockham, states that one should make as few assumptions as possible when it comes to theories and explanatory hypotheses (and in this case a simple name). Simply stated, the straightforward solution is almost always the correct one.
Now getting to the point, the name Glass Beach is just that, a beach that once was a garbage dump littered with broken glass and trash. In the mid 60s, the North Coast Water Quality Board began to take clean-up action, realizing this was not the best place for a garbage dump site. After 30 years of wave action, the pounding surf created tons of polished broken glass. These colorful glass treasures made wonderful souvenirs for beach-goers. Now part of a state park, all are asked to leave the glass for everyone to enjoy.
In 2002, MacKerricher State Park was added to the California State Parks inventory. Aside from its ever popular Glass Beach, the park is noted from its headlands, dunes, coastal forest and marine wildlife. From its bluff line, during winter and spring, whale watching is a popular pastime. Two fresh water lakes, tidal pool explorations, and trails for equestrian riders and hikers keep park visitors very busy. Found just north of Fort Bragg, the 38 acre park occupies a strip of land between the city and Ten Mile River. The park is named for Scottish pioneer Duncan MacKerricher who purchased the land in 1868. The land was kindly donated to the state by his heirs in 1949.
Copyright © 2011 Benjamin Prepelka
All Rights Reserved