Scenic USA - Tennessee
Scenic USA offers a collection of select photographs from a wide variety of historic sites, points of interest, and a large
sampling of America's parklands. Each photo feature is coupled with a brief explanation.
For further detailed information, links to other related sites are provided, but in no means should they be considered an endorsement.
Stones River National Cemetery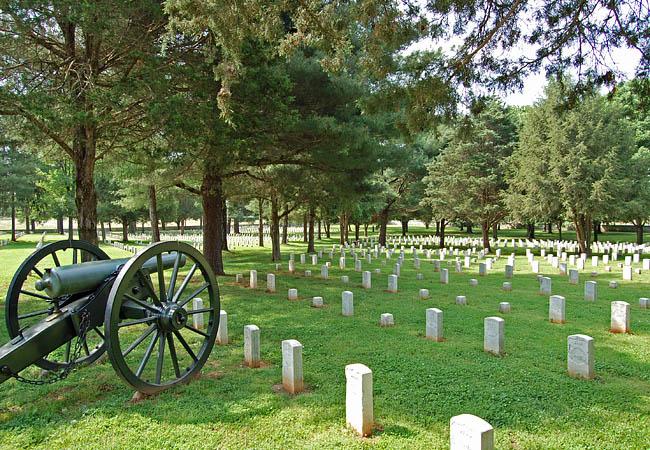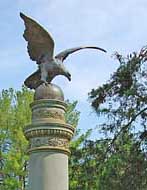 As spring of 2011 markes the 150 year anniversary of The War Between the States, Civil War battle sites have become popular summer vacation ideas. Stretching across to the United States from Vermont to Florida, thousands of cemeteries, monuments and battlefields can be found in almost every state east of the Mississippi River. The Anniversary of the American Civil War (2011-2015) offers the current generation of Americans a most important opportunity to know, discuss, and commemorate this country's greatest national crisis. What's happening in your state? ~ NPS
Union Forces, operating west of the Appalachian Mountains, focused on controlling the Mississippi River and separating the Confederacy through the state of Tennessee. During the second year of the war, Federal Troops marched into Tennessee. Near Murfreesboro, the Battle of Stones River was a major step in the plan. Here at the Stones River National Battlefield site park tours attempt to relate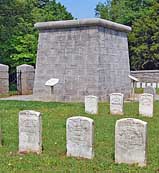 the significance of this movement. On the last day of December, in 1862, 81,000 men met on battlefield. No one celebrated the new year at Stones River. Here at the Slaughter Pen, the Round Forest and Hell's Half Acres, casualties totaled more than 23,000 men.
Because the soldiers at the battle site were hastily buried, reburial began in October, 1865. The unenviable task fell to the 11th United States Colored Infantry at the newly established Stones River National Cemetery. Hazen's Monument, the oldest intact Civil War Monument in the nation, was built by Union soldiers in 1863. The monument was built as a tribute to the heroic stand of Hazens Brigade as they repealed four separate confederate charges. Long before monuments at Vicksburg, Shiloh and Gettysburg were established, comrades of the fallen had erected this monument.
Copyright ©2011 Benjamin Prepelka
All Rights Reserved