Scenic USA - Oregon
Scenic USA offers a collection of select photographs from a wide variety of attractions, points of interest, historic sites, state parks and
national parks found throughout the United States. Each photo feature is coupled with a brief explanation.
For further detailed information, links to other related sites are provided.
South Falls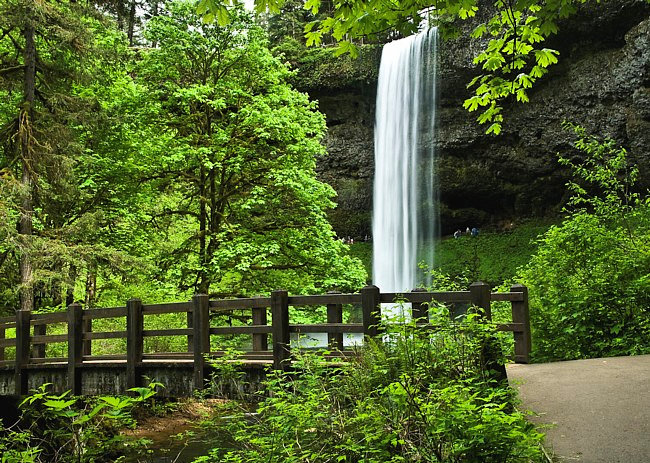 A string of ten remarkable waterfalls, spaced out among the Silver Creek Canyons, creates one of Oregonís most popular parks. This dramatic view of South Falls offers a beautiful sampler from the picturesque Silver Creek State Park. Less than an hourís drive from Salem, Oregonís capital city, the two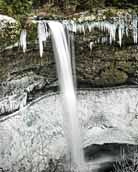 forks of Silver Creek have sliced a passageway through a thick outer shell of basalt, creating this delightful canyonland of scenic waterfalls.
Located in the Willamette Valley among a temperate rainforest, the Silver Creek area was rescued by President Franklin Delano Roosevelt. Part of a Civilian Conservation Corps restoration project, young men of the corps repaired what the lumbering industry left behind; a land with nothing but tree stumps. CCC efforts replanted trees, constructed a lodge, and setup a trail system along the North Fork and South Fork of Silver Creek.
Here on the Trail of Tens Falls, visitors descend over footpaths lined with ferns, mosses and wildflowers. Overhead, moss covered hemlocks and cedars provide the perfect perches for a wide variety of birds. The Canyon Trail, requiring a three to five hour hike, leads guests to the entire collection of waterfalls, ranging from majestic 177 foot South Falls to the delicate cascade of Drake Falls. Half the waterfalls in the park plunge more than a hundred feet. In this view, showing a pathway behind the falls, a large grotto has formed underneath the fallís rim, displaying the powerful forces of Silver Creek. The line of visitors under the falls hints at the parkís popularity.
Copyright ©2010 Benjamin Prepelka
All Rights Reserved