Scenic USA - New York
Scenic USA offers a collection of select photographs from a wide variety of historic sites, points of interest, and a large
sampling of America's parklands. Each photo feature is coupled with a brief explanation.
For further detailed information, links to other related sites are provided, but in no means should they be considered an endorsement.
Dard Hunter Mill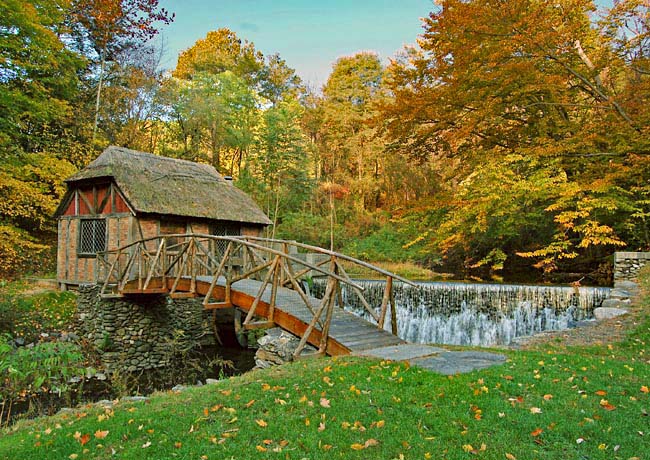 Following three years of extensive repairs to the interior fireplace and supporting structures, the Dard Hunter Paper Mill celebrated with a ribbon cutting ceremony this past May, 2011. After stabilizing the chimney, crews replaced decayed beams and repaired the collapsed mantle. Utilizing period tools from the early 1900's, a special exhibit describing the project is set up at the mill.
Nearby the town on Marlboro, New York, the Dard Hunter Paper Mill is part of the Gomez Mill House Historic Site. The Gomez Mill House is the oldest Jewish residence in America. Here in the Hudson River Valley, the historic Gomez house was built in 1714. Dard and Edith Hunter purchased the property in 1913. Soon to discover all handmade paper was being imported from Europe, Hunter chose to make his own. Modeled after a 17th century Devonshire cottage, Dard completed this small paper mill in 1913. Topped with a thatched roof of rye and relying on waterpower from Jew's Creek, Hunter quickly became an expert in papermaking and fashioning handmade typefaces.
Hunter devoted a great portion of his life to the art of paper making, authoring 46 books and establishing the Dard Hunter Paper Museum. Born William Joseph Hunter, the origin of the unusual name of Dard remains unknown. A leading proponent of America's Arts and Crafts style, Hunter is now recognized as one of the movement's greatest artists.
Copyright ©2011 Benjamin Prepelka
All Rights Reserved